Toasts with only Ferrari at the Maserati Day in Japan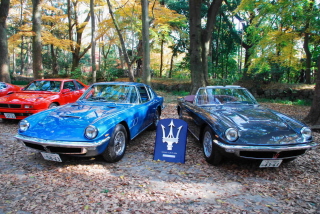 On the eve of the event the worry was whether there would be bad weather but the Ferrari bubbles were obviously heralds of good luck and the 17th edition of the Maserati Day, held in Kyoto in Japan, was blessed with two splendidly sunny days. Over seventy Maseratis arrived, vintage and new, the oldest from the 1940s. All the people who really count in Kyoto were there to meet them, starting with the Mayor and Shiniki Ekko, president of the Maserati Club in Japan. Lastly, there were many society people at the gala dinner where the only bubbles admitted were Ferrari bubbles.
This event is one in a series that sees Ferrari accompany the very best made-in-Italy labels in the land of the Rising Sun, where the Lunelli family bubbles' presence is now consolidated.