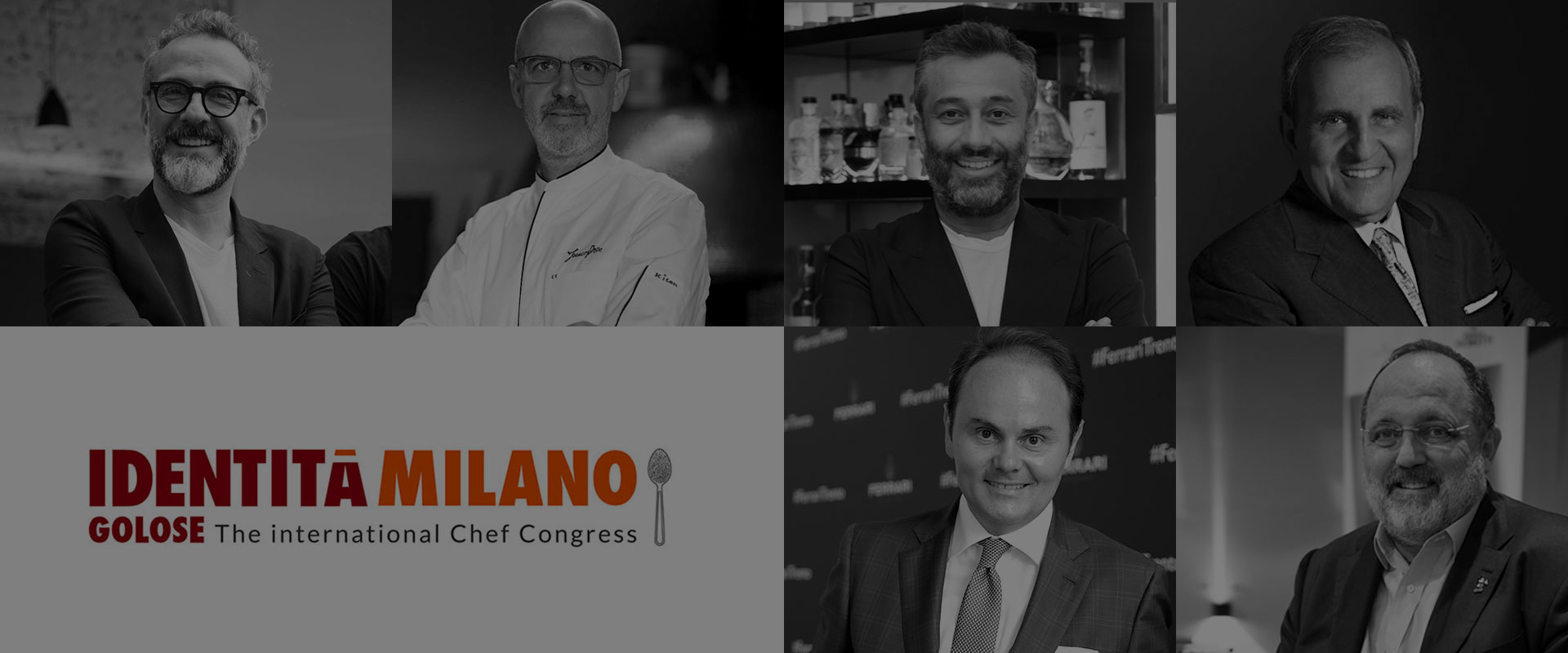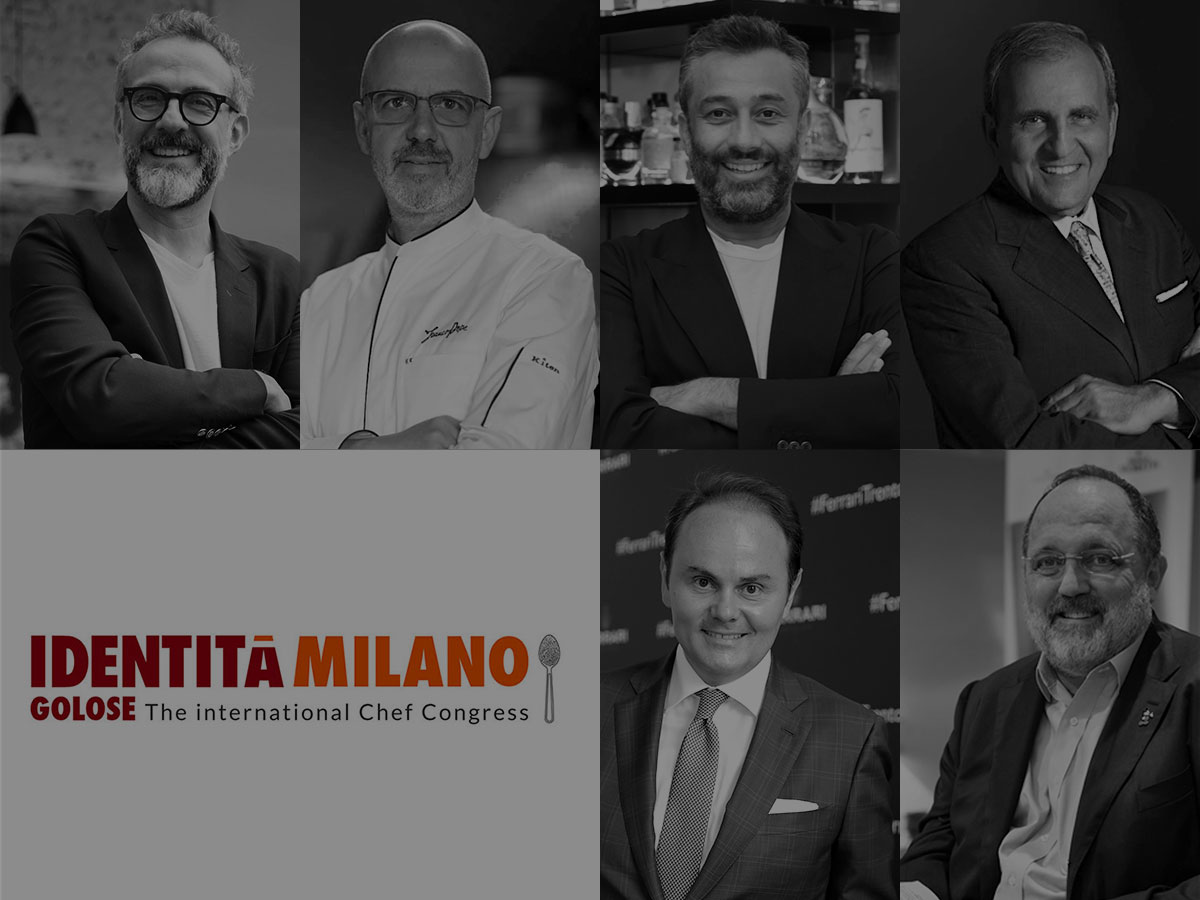 The "Identità di Sala - Rinascita: i primi passi" Webinar 29th June 2020
On 29th June Ferrari Trento and Identità di Sala organised a second webinar, titled "Rebirth: the first steps", which involved other important figures in the world of Italian hospitality. They "got together" to discuss the situation a month after reopening, to understand what have been the best practices for guaranteeing the safety of their guests without losing spontaneity when serving them, and to talk about the prospects for the near future.
Taking part along with Matteo Lunelli, President of Ferrari Trento, and Paolo Marchi, founder of Identità Golose, were Three-Star Michelin chef Massimo Bottura, Enrico Buonocore, owner of Langosteria, Lorenzo Giannuzzi, Managing Director of Forte Village, and Franco Pepe of the celebrated Pepe in Grani Pizzeria.
This meeting offered an encouraging perspective, producing some winning ideas for ensuring an unforgettable food and wine experience even at this very particular time.
For years now, Ferrari Trento has maintained the need to interpret hospitality as an art and, today more than ever, this aspect is revealing itself to be fundamental in making a difference during this period of returning to business.
Webinar "Identità di Sala - Rinascita: i primi passi"
29th June 2020
Matteo Lunelli
Identità di Sala is returning with a second appointment that we decided to call "Rebirth: the first steps", to sum up the situation approximately a month after restaurants and hotels have reopened. What emerges, despite the obvious difficulties, is the desire for sociability that people are demonstrating, along with curiosity and a keenness to experiment.
Our speakers in this webinar are four highly talented people who have focused on excellence and creativity, as well as on social responsibility for those who work with them, whom they have sought to protect both in terms of safety and economically. They are successful examples, who have succeeded in reacting in a positive way to the situation, and for this reason they have been rewarded ever since they reopened. It is evident that the difficulties for the sector are still enormous, but we wanted to give an injection of optimism by listening to these icons of hospitality as they communicate their pragmatic ideas and their passion.
Enrico Buonocore
During this period of lockdown we have reflected a great deal about how to apply the safety measures in a creative way, so that they aren't a burden for our clients, such as innovative social distancing using plants and screens to create intimate little dining areas, as well as teddy bears occupying the seats that have to be kept free. Also there is our home delivery service, "Langosteria a Casa", and "Chef a Casa", where people have really liked our manner of providing the service and our glass packaging, in order to offer a top-quality experience.
My advice, therefore, is to believe in what we are doing; have energy, listen to the clients but, especially, continue to be careful and work safely for the sake of our staff and our guests, because forgetting too soon about this pandemic is not the right approach to have. In the meantime, we have learnt to smile with our eyes!
Lorenzo Giannuzzi
Managing the Forte Village is like conducting an orchestra: we are a little self-contained world which contains, alongside our hotel accommodation, not only 16 restaurants but also boutiques, sports facilities and a great deal more, giving work in high season to around 1,300 employees. For this reason, I think it's almost a social duty not to forget about our colleagues, even in an uncertain situation where it has been very difficult to plan anything. At the same time, we have worked hard to find personalised solutions so as to be able to reopen and offer our clients a safe, high-quality holiday experience, in which they can relax and forget about the emergency, at least for a while. We therefore decided to take advantage of the medical facility within the Forte Village, to create a real "triage" on arrival, where a serologic test (and perhaps a rapid swab) is carried out on every guest, with the objective of being a Covid-free resort. Also, we have taken steps to ensure flights from the United Kingdom and Russia, markets of strategic importance for us.
Franco Pepe
I think of the Pepe in Grani pizzeria as a stage, where we train actors so that those who come and visit us can enjoy a unique experience. For this reason – today more than ever – I believe in the importance of the serving staff, who must not only be in perfect harmony with the kitchen, but also know how to deal with the clients and their needs, whilst respecting their safety.
It didn't make sense to me, while we were closed, to set up a takeaway service, so I decided to put up three of my colleagues who couldn't get back to their countries of origin: we never closed down the oven, but instead made bread together and donated it to those who were in need.
These were also months for making important decisions, so that we could organise our reopening in total safety. We therefore reorganised the dining room and opened up the garden of my home, dedicating it to Ezio Bosso and calling it the "Silent Garden". We also came up with a selection of just fried foods, "Il Fritto Assoluto", paired with sparkling wine, and I thought of an aperitif and a special coffee, to offer my clients - who, before, could go to the nearby bars – an all-round dining experience.
The response when we reopened on 2nd June was thrilling, and this gave me back a lot of confidence.
Massimo Bottura
The time for tears is over: now creative minds must come out into the open and be an example for everyone in this difficult period. They must set an example and exude positivity, creating formats and ideas that can be useful for starting up again.
I continue to believe in the fundamental importance of the Human Factor, and for this reason I want to underline the value of "smiling with one's eyes" and of social responsibility, as has emerged in this discussion. Personally, I decided to close a week before lockdown in order to keep my team safe, and I also delayed reopening so as to gain a better grasp of the safety measures that had to be adopted.
Since reopening on 2nd June, the Osteria Francescana has always been full - at both lunch and dinner - of Italian clients and even a few foreigners, who have come by car from Germany, France and even Holland specially to visit us, because they have finally been able to get a table. This has given us a surge of enthusiasm that has almost made us forget the difficulties of the last few months.

Ferrari Trento promotes a culture of drinking responsibly which is part of the Italian Art of Living.
It is a culture linked to the ritual nature of food and the celebration of convivial occasions, in which consumption is moderate and informed.
Enter the ferraritrento.com website only if you share this approach and if you are of the legal age to drink alcohol in your country: a world of excellence awaits you!
Access to the site was denied because you are not of legal age to drink alcohol.