Retrospective of a passion
The legend of Ferrari began with a man, Giulio Ferrari, and his dream of creating a wine in Trentino capable of competing with the best French Champagnes.
history
The italian art of living
With its natural elegance, Ferrari – among the most glittering manifestations of that art of living which is so very Italian – is an icon of style that wins you over from the very first sip.
Values
"Wine is poetry of the earth."
Ferrari's quality is the result of lots of small,
daily procedures.
It is created in mountainside vineyards, in the finest areas of Trentino,
and perfected in the winery using the mandatory techniques for making Trentodoc wines.
Italy's most awarded sparkling wines
1906: Ferrari's sparkling wine wins the Gold Medal at the International Exhibition in Milan.
This is just the first of many prestigious accolades that will confirm the high quality of the Company's outstanding products.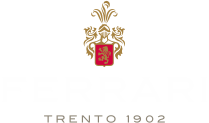 Ferrari Trento promotes a culture of drinking responsibly which is part of the Italian Art of Living.
It is a culture linked to the ritual nature of food and the celebration of convivial occasions, in which consumption is moderate and informed.
Enter the ferraritrento.com website only if you share this approach and if you are of the legal age to drink alcohol in your country: a world of excellence awaits you!
Access to the site was denied because you are not of legal age to drink alcohol.