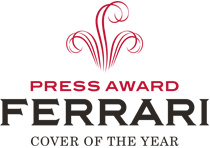 FERRARI REWARDS THE IMAGINATION, CREATIVITY AND TEAMWORK OF ITALIAN NEWSPAPERS.
A cover embodies the business card of a magazine, it is its showcase. It stands for its character and emphasises its message. In a medley of headlines, subheadings, and photographs that shout for attention, it portrays and foretells the best part of a magazine.
Therefore, also for the most beautiful cover of a whole year there is a significant prize at stake: 1,000 bottles of Ferrari Brut.
Jury
Some of the most notorious names, in Italy and even worldwide, in TV and print journalism, literature and art, with the exception of the managing directors of magazines and newspapers, in order to avoid understandable conflicts of interest. Among Italian journalism awards, one would have to search far and wide before finding a more authoritative and charismatic jury, with the addition of two professionals belonging to Ferrari winery, including its statutory president.
Winner and Nominations of the previous editions