Focaccia and lard from Colonnata

The fresh and slightly spicy taste of Pinot Noir goes wonderfully with the fattiness of the lard.
Origin and pairings
Aperitif time is the best time of the day for savoring some relaxation in the company of friends and family. To enjoy this experience to the full, it's important to create a delicious appetizer matched perfectly with an expertly chosen wine. Warm focaccia with lard from Colonnata is a flavor sensation, both rich and sweet, it is sure to win over even the most sophisticated palates.
Lard from Colonnata is a premium Italian product that boasts ancient origins, although it is difficult to establish with any certainty exactly when this local tradition was born. Typical of the village of the same name located in the Apuan Alps, a hamlet near the town of Carrara, it was not long before this cold cut evolved from being a food for the poor to one of Italy's most highly prized PGI products. Many Italian and world-renowned chefs use lard from Colonnata in their recipes, creating daring combinations and perfectly balanced flavors. What makes this product unique is its delicate and fresh taste, which comes into its own the more of it you eat thanks to the aromatic herbs and spices that enrich it.
Focaccia makes the perfect foil to showcase the taste complexity of lard from Colonnata, all the more so if served hot and crispy, allowing the meat to release the full extent of its aromas.  The perfect wine to celebrate this union of flavors is the Ferrari Perlé Rosé Riserva, made from a careful selection of Pinot Noir and Chardonnay grapes from vineyards owned by the family. Its intense bouquet, dominated by elegant notes of berries, is perfect for enhancing the velvety consistency of the lard from Colonnata, adding a note of harmony to this simple and authentic aperitif.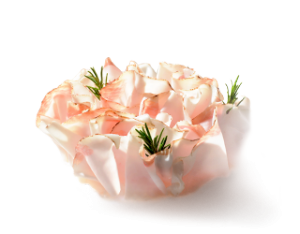 Ferrari Trento promotes a culture of drinking responsibly which is part of the Italian Art of Living.
It is a culture linked to the ritual nature of food and the celebration of convivial occasions, in which consumption is moderate and informed.
Enter the ferraritrento.com website only if you share this approach and if you are of the legal age to drink alcohol in your country: a world of excellence awaits you!
Access to the site was denied because you are not of legal age to drink alcohol.