Focaccia, Bresaola della Valtellina, and Parmigiano Reggiano cheese

The structure and persistence of Ferrari's Maximum Rosé make this Trentodoc the perfect accompaniment for the Parmesan cheese and air-cured beef.
Origin and pairings
The food and wine tradition of Italy offers ingredients with an authentic flavor that bring out the best in any recipe. To amaze your guests with a simple aperitif that betrays precise attention to detail, the combination of focaccia, Bresaola della Valtellina, and Parmigiano Reggiano cheese ensures a riot of flavors.
Bresaola della Valtellina boasts a long history and the PGI denomination attributes the protected brand only to producers in the province of Sondrio for two reasons: processing methods that are handed down from generation to generation to keep its uniqueness intact and the climate of the Valtellina, which contributes to the aging of this extraordinary product. Its delicate and slightly aromatic scent is a reminder of the characteristic spices used during the salt curing process and perfectly matches the intense flavor of the Parmigiano, one of the world's best-loved cheeses.
The combination of these two premium products of Italian gastronomy needs a foil on which to rest, and crispy focaccia is perfect for enhancing the assault on the senses provided by this recipe. This starter can be served on a wooden board or plated as an elegant finger food on ceramic dishes.
The ideal wine for enhancing Focaccia with Bresaola della Valtellina and Parmigiano cheese is the Ferrari Maximum Rosé, a rich and embracing Trentodoc with berry aromas. Elegant and with a persistent perlage, this Trentino wine stands out thanks to its finish marked by delicate hints of yeast, deriving from more than 30 months' aging in the bottle.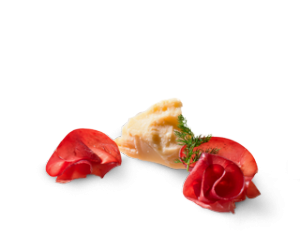 Ferrari Trento promotes a culture of drinking responsibly which is part of the Italian Art of Living.
It is a culture linked to the ritual nature of food and the celebration of convivial occasions, in which consumption is moderate and informed.
Enter the ferraritrento.com website only if you share this approach and if you are of the legal age to drink alcohol in your country: a world of excellence awaits you!
Access to the site was denied because you are not of legal age to drink alcohol.