Handmade breadsticks and Culatello from Zibello

Its prolonged ageing on the yeasts gives Ferrari Perlé the freshness and persistence that act as a perfect foil for the fattiness of the culatello.
Origin and pairings
Creating the perfect aperitif is an art that demands only the finest products, such as Culatello from Zibello. To perfectly showcase what many consider the "king of cold cuts" thanks to its delicate and slightly smoked taste, we recommend combining it with handmade breadsticks that are typically traditional of Turin.
Culatello from Zibello is a classic of the Bassa Parmense region, leading to its nickname "aroma of the fog". The reason for its unique flavor can be traced back to the notorious fog of the area in which it is produced and the natural molds formed only on the banks of the Po river, giving it a particular note as compared to other cold cuts. This unique flavor lends itself to being enhanced by classic breadsticks from Turin, a light alternative to bread or focaccia.
Another must-have ingredient on your table if you want to bring out the flavor of the meat and the unmistakable aroma given to it by the aging process is a bottle of Ferrari Perlé which, by its freshness and persistence, makes the perfect foil for the fatty culatello. This vintage Trentodoc of extraordinary aromatic richness adds a final flavor note that culminates in an unforgettable crescendo.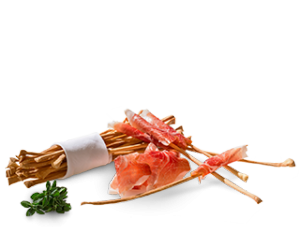 Ferrari Trento promotes a culture of drinking responsibly which is part of the Italian Art of Living.
It is a culture linked to the ritual nature of food and the celebration of convivial occasions, in which consumption is moderate and informed.
Enter the ferraritrento.com website only if you share this approach and if you are of the legal age to drink alcohol in your country: a world of excellence awaits you!
Access to the site was denied because you are not of legal age to drink alcohol.