Cured Parma ham and Fior di Latte mozzarella

The sweetness of the mozzarella and of the ham is perfectly balanced by the freshness of Ferrari Brut.
Origin and pairings
It's not difficult to create a gourmet aperitif in Italy. All you need to do is choose the highest quality raw materials and combine them expertly to create a perfect balance of flavors.
One of the most popular combinations is that of cured Parma ham and fior di latte mozzarella, the sweetness of which is enhanced by the salty softness of the ham.
Cured ham from Parma is famous all over the world for its craftsmanship and remarkable history. The origins of this extraordinary product from the gastronomic tradition of Emilia date back an extremely long way: during the Roman era, the inhabitants of the Parma area dedicated themselves to making excellent salted hams. More recently, a great many Italian and foreign chefs have been inspired by the unique flavor of this delicacy and have translated it into creative and mouthwatering recipes.
One of the most popular combinations for an aperitif is cured Parma ham and fior di latte mozzarella, which, together create a taste sensation without forgoing the delicacy and sweetness of an authentic and genuine dish. To take this synthesis of traditions to the next step, we recommend accompanying it with a bottle of Ferrari Brut, with its fresh and intense bouquet. A product of 100% Chardonnay grapes and their synergy with the breathtaking mountains of Trentino, this wine has a fine and persistent perlage that caresses the palate, transforming your aperitif into an unforgettable taste experience.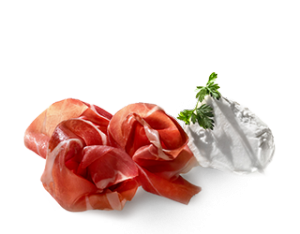 Ferrari Trento promotes a culture of drinking responsibly which is part of the Italian Art of Living.
It is a culture linked to the ritual nature of food and the celebration of convivial occasions, in which consumption is moderate and informed.
Enter the ferraritrento.com website only if you share this approach and if you are of the legal age to drink alcohol in your country: a world of excellence awaits you!
Access to the site was denied because you are not of legal age to drink alcohol.