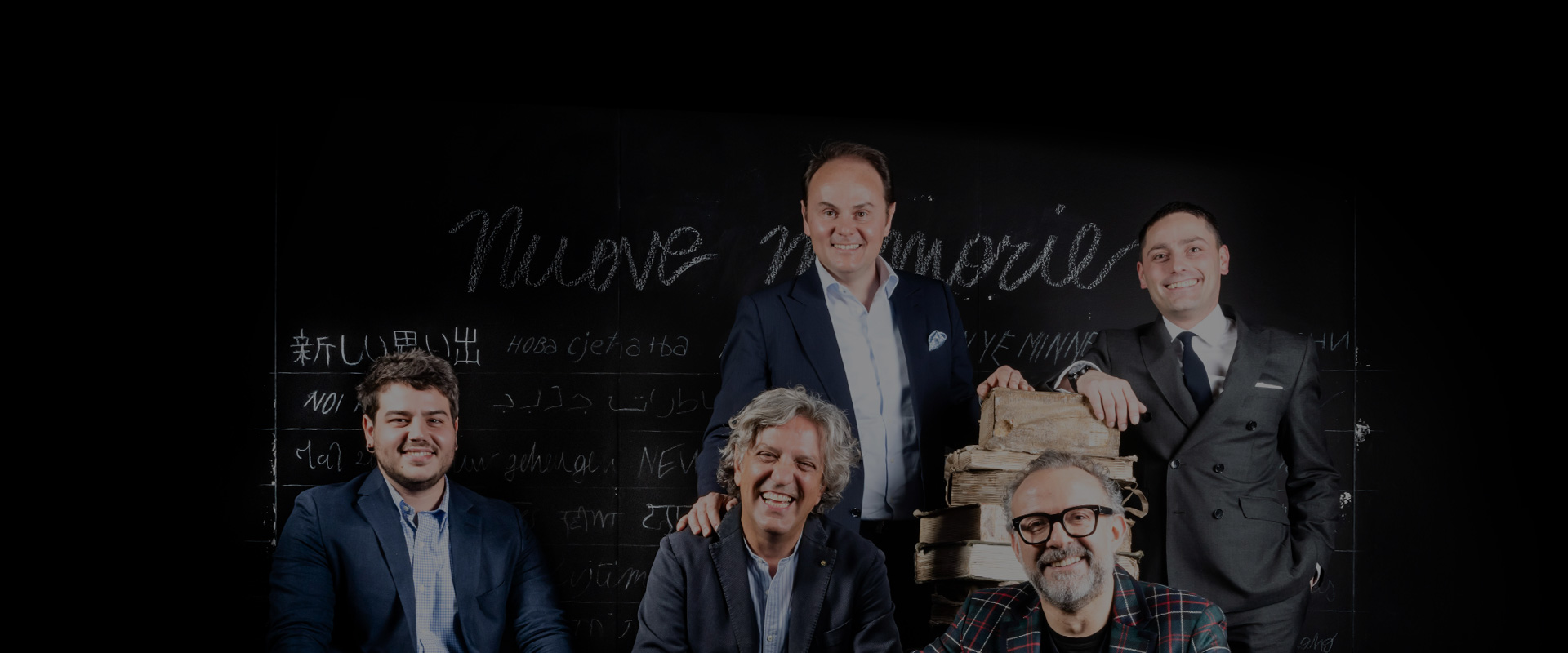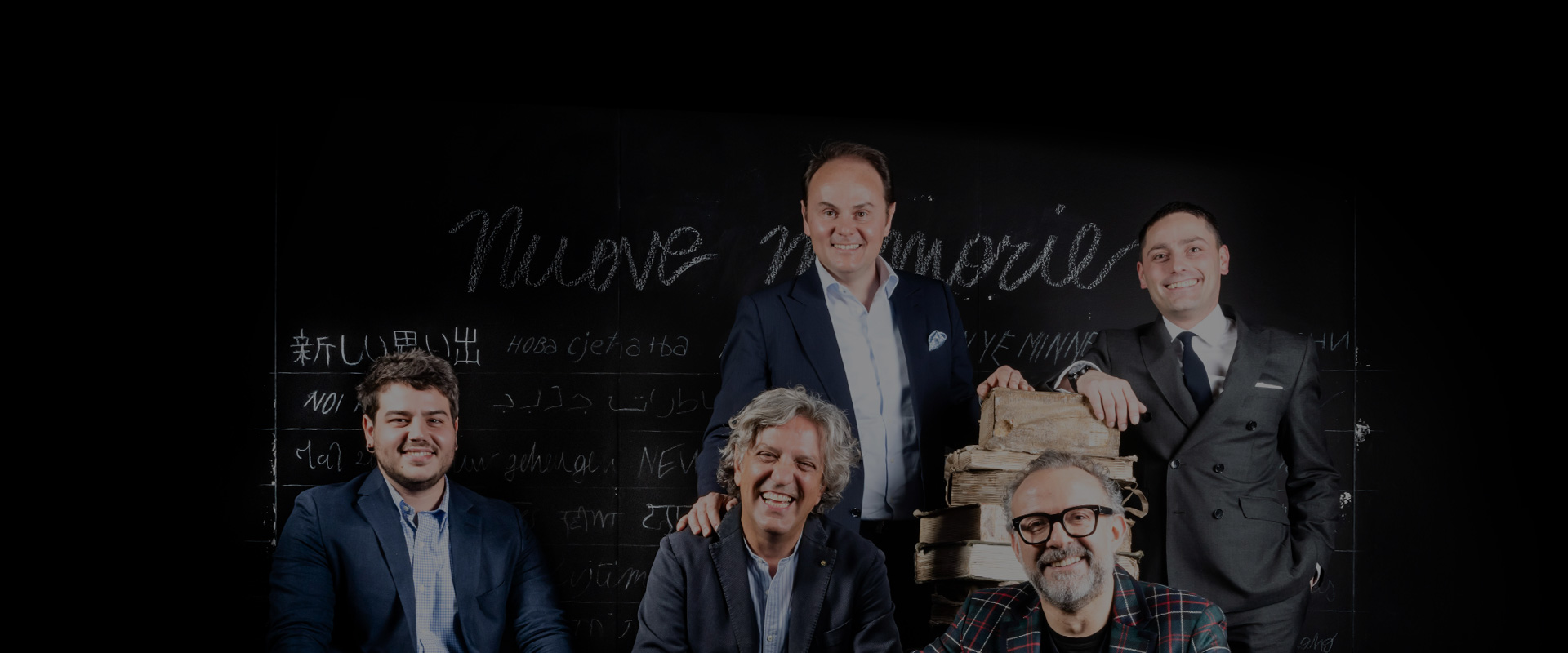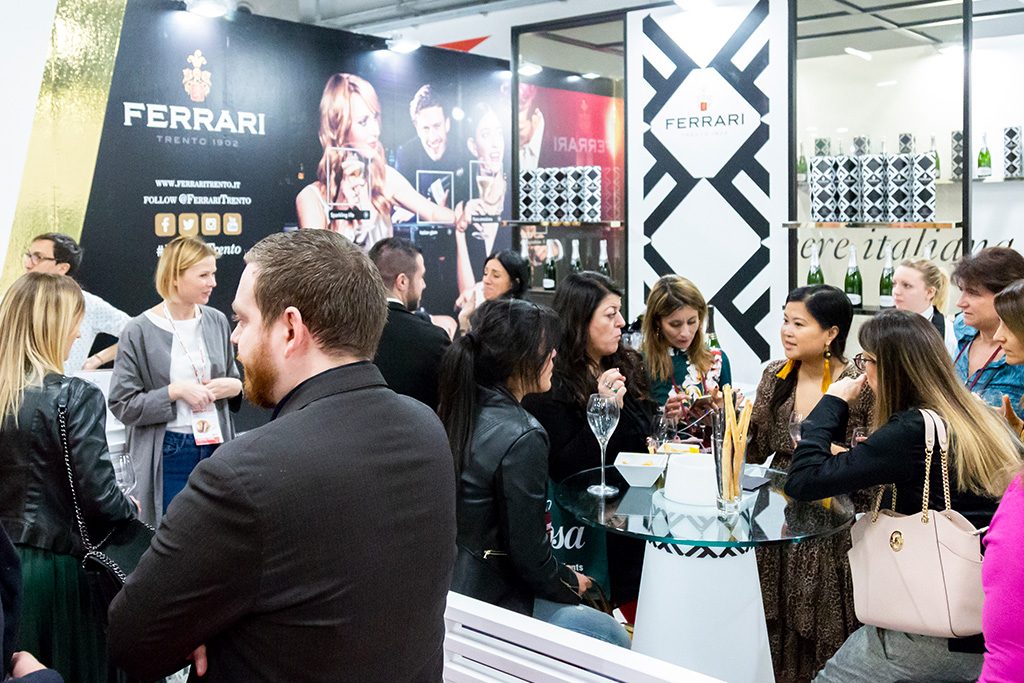 From the close relationship between Ferrari and the top-class restaurant trade – the most significant ambassador for our sparkling wines – stems our desire to highlight the role and the enormous contribution that service gives to a restaurant's success.
This beautiful voyage exploring the Art of Hospitality began for Ferrari Trento in 2016 with a conference organised at the Palazzo Serbelloni in Milan, and continues to offer new ideas and opportunities for exploring the theme in greater depth, partly thanks to our partnership with Identità Golose, which has allowed us to explore the state of the art of this subject with various "stars" of the hospitality world.
This fifteenth edition of Identità di Sala once again reveals new takes on hospitality and service, bringing with it fresh, stimulating testimonials, even from outside the top restaurant sector.
The art of hospitality at Identità Golose
Identità Golose, 24th March 2019
The Art of Hospitality according to…
Niko and Cristiana Romito
Enrico Buonocore - owner of Langosteria
With a very tough challenge like ours, where you always have to be ready with "a smile, presence and quality" even with a large number of covers, it is fundamental to have a knowledge of other people's jobs; for this reason, many of our cooks have worked in the dining room, and vice versa; in today's world you can't talk separately about the kitchen and the dining room separately anymore.
People are at the centre of our work. Times have changed and there is greater attention to the staff: today everything is based on training, on research, and on a desire to offer a career to those cooperate with your project.
Enrico Bartolini - owner of the Mudec restaurant in Milan
I have always thought that every restaurant, even if it goes under my name, should have its own identity, which reflects the place where it is and the people who work in it.
So, even if at the beginning there were my "classic" dishes, I then decided to give space to those of the "house" chef, because it is he or she – together with the maître d' – who "makes" the restaurant.
What is common to all my restaurants is a desire to compare notes between the waiting staff and the kitchen: before each service we prepare the experience that the client is about to enjoy, which is made up of lots of details.
Giancarlo Perbellini - chef and founder of "Casa Perbellini"
In all the restaurants that bear my name I always have a partner in the kitchen with whom I have previously worked, and whose skills and personality I have appreciated. It is someone who, because they now have to run the business, must be responsible for the kitchen but also the dining room: they must give their imprint to the restaurant as a whole. For this reason, I give them freedom to choose the wine list, so that each of them can express their identity.
MARIELLA ORGANI - SOMMELIER, MAITRE D' AND OWNER WITH HER HUSBAND MORENO CEDRONI OF THE MADONNINA DEL PESCATORE AT SENIGALLIA (ANCONA), DELEGATE OF THE "NOI DI SALA" ASSOCIATION FOR THE MARCHE AND MEMBER OF THE COMMITTEE OF EXPERTS OF ALMA, THE INTERNATIONAL SCHOOL OF ITALIAN CUISINE AT COLORNO
You never finish learning: that's how you find out the complexity of this job.
At Alma I am part of the Committee of Experts on Hospitality and I assist the students in understanding how their preparation is progressing and what they will do afterwards, because they need to evaluate their progress and be helped after the school as well. What we look for in young people who want to work at the Madonnina del Pescatore are good manners, discipline and a good character: everything else can be learned.
DOMINGA COTTARELLA – CREATOR AND PRESIDENT OF "INTRECCI", THE ORGANISATION BACKED BY THE LAZIO REGION FOR TRAINING AND PLACING HIGHLY QUALIFIED SERVING STAFF
I was born in a family of wine producers and so for me wine is one of the ingredients of hospitality. When I perceived in my clients a difficulty in training a good waiting staff, I decided to do something about it by founding – a year ago - Intrecci.
This name stems from the conviction that you have to "interweave" with others in order to grow and learn. Restaurant service is a job you have to fall in love with, so that you only see its positive side and don't experience it just as a "temporary" profession, but rather as a goal in life, giving it all your passion, and also studying.
LAURA FRATTON – COORDINATOR FOR THE HOTEL SECTOR AND HIGHER EDUCATION IN CUISINE AND THE RESTAURANT TRADE OF THE ENAIP PROFESSIONALTRAINING CENTRE AT TIONE DI TRENTO
In Trentino, the education system is slightly different to that in other parts of Italy: we have been able to create study plans directly together with the companies, a path that has led to us also choosing subjects that have to do with culture and communication. The training of those who have to work in the dining room, must, in fact, stretch well beyond mere technique; our objective is to convey our identity, the beauty of our area, and also the idea that the guest is sacred.
MARIELLA CAPUTO – AMBASSADOR OF TASTE, SOMMELIER AND OWNER WITH HER BROTHER ALFONSO OF THE TAVERNA DEL CAPITANO AT MASSA LUBRENSE (NAPOLI)
As a woman who serves the clientele and is an ambassador of taste, I can say that it is important not only to be in love with this profession but also to make your colleagues fall in love with it, working together well and creating a harmonious staff.
In our sector, one of the most important jobs is the dish washer, because if a plate is dirty the whole dining experience is compromised. We must never forget that we our working for our guests: when they come to the restaurant, they do so in order to find a situation where they feel at ease.
MATTEO ZAPPILE – CHEF AND SOMMELIER AT IL PAGLIACCIO RESTAURANT IN ROME AND ADMINISTRATIVE DIRECTOR OF "NOI DI SALA"
"Noi di Sala" was founded in 2012 as a result of some restaurant service professionals reflecting on the difficulty of finding enthusiastic staff.
We try to teach that being a waiter doesn't just mean being able to take a couple of plates to the table, but also studying, understanding the client, being curious and wanting to see things, travel and work; the rest arrives thanks to our training. Ours is a very supportive network, in which we share personnel and ideas.
NICOLA DELL'AGNOLO AND ALBERTO PIRAS – RESPECTIVELY MAÎTRE D' AND "HOUSE" SOMMELIER AT AIMO E NADIA
Starting off from the premise that the client is the star of the restaurant, as regards wine too it is fundamental to understand them at a glance, to know how to give them the best advice and sometimes – particularly with a menu in which each dish is matched with a different wine – change tack in line with the client's tastes.
Our wine list has really been created for our clients, who are mainly Italian and many of whom are also regulars. It is in fact divided up in macro-sections, and it is therefore fundamental that whoever is proposing the wines knows it very well. A wine has to be explained and recommended, and so it is very different if it is sold by someone who bought it, knowing why they chose it.
ALBERTO CRISTOFORI – MANAGINF DIRECTOR OF WINE TIP
There are trends also in wine, so it is important to know how to manage a cellar based on clients' requests, without however distorting the philosophy and tradition of the restaurant. Wine Tip helps restaurateurs and sommeliers respond to this need to have a constantly evolving cellar, supporting them in the search for fine wines and older vintages whilst at the same time taking account of budget and space limitations. We also help them get allocations of wines that are a bit less "fashionable" in markets where they are still drunk.
ALESSANDRO TOMBERLI – SOMMELIER AND RESTAURANT MANAGER OF ENOTECA PINCHIORRI AND REPRESENTATIVE OF THE TUSCAN DELEGATION OF "NOI DI SALA"
Enoteca Pinchiorri's cellar contains around 4,000 different wines and over 80,000 bottles, of which around 9,000 are uncorked each year.
The wine list has to tell you about the restaurant and its focus, and it is also important for it to be clearly laid out.
From the way the client approaches and leafs through the wine list, the sommelier has to understand how to intervene, if and how to advise him, and sometimes also help him avoid the embarrassment of having to deal with a very large or expensive list. It is however fundamental that the sommelier explains his choice to the client and takes care of him throughout the meal.
MATTEO LUNELLI – PRESIDENT AND CEO OF FERRARI TRENTO
If hospitality is the sum of many small details, wine too is part of it: it must always create a dialogue with the food and with the people present.
In a period when people are always talking about food, communicators often do not give enough space to an important and convincing element in the restaurant experience such as wine.
I have seen very many wine lists in Italy and around the world, and I have learnt that there isn't a single type of list; rather, it has to be perfectly in line with the restaurant: rich, as at the Enoteca Pinchiorri, or maybe concise and even inexpensive.
The hotel business: perfect service
GIAMPAOLO OTTAZZI - GENERAL MANAGER OF THE BELMOND HOTEL CIPRIANI
The Belmond Cipriani is 5 minutes by boat from St. Mark's Square, yet at the same time "in another world", one of luxury and privacy. What we teach our staff – an approach shared by the whole of our group – is to talk a lot with our guests, because that is the only way of getting to know each other and make them feel at home. From the point of view of our rapport with the client, we let this be managed in a free way, without any rigid protocols, so as to express to the full the personality of each resort.
EMANUELE MANFROI - GENERAL MANAGER OF THE BELMOND VILLA SAN MICHELE IN FLORENCE
Belmond is a chain made up of unique properties, but conceived so that they are homes rather than hotels. Here guests should feel themselves part of a large family, so none of our employees wears a badge with their name on it, because it is important that they introduce themselves personally and have the opportunity to interact with the client.
Every Belmond hotel has its own distinctive and unmistakable personality, but what is common to all of us is a desire to make our guests familiar with the concept of the "Italian lifestyle", made up of simple things, craftsmanship and uniqueness.
PAOLO MANCUSO – DEVELOPMENT AND NEW PROJECTS DIRECTOR OF THE FORTE VILLAGE AT PULA (CAGLIARI)
The Forte Village is a large complex which, over the years, has evolved into a top-class destination. It is a world of 700 rooms divided up between 8 hotels. In the last few years we have sought to create an ideal destination, in which the ideal draw for our clients – of whatever age, type and nationality - is represented by living a unique experience. We try, therefore, to get to know every client prior to their arrival, and once they have got to our structure, what we ask of our staff is for them to show empathy and be genuine.
The primary characteristic to cultivate when working in the hotel business is in fact one's attitude, because you can always work on technical aspects later. Because of our conviction that the guest should not be dealt with according to rules and regulations, but with personality, we have created a postgraduate Business in conjunction with Luiss University in Rome, in which 5 months are dedicated to study and no less than 6 to experience on the job.
ATTILIO MARRO - GENERAL MANAGER OF THE BULGARI HOTEL
The Bulgari Hotels chain originates from a concept of contemporary luxury that is distinctively Italian and not subject to fashions: in other words, the same values that the Bulgari jewellery brand has always conveyed. The hotels – today five, with another three scheduled to open up soon – are like rare gems, all incorporating Italian style, which also means hospitality and genuineness. That is why in all our hotels we invite our employees to approach the clients with "emotional intelligence", seeking to behave according to their own personalities: always impeccably, but not in too formal a manner, because those who frequent our hotels and restaurants like to be entertained.
Glitches, and how to deal with them
PAOLO LORENZONI - GENERAL MANAGER OF THE GRITTI PALACE IN VENICE
When problems arise, it is important to always know what really happened and it is fundamental to know the guest: who they are, their language and culture, how much they are paying and how they have behaved up until then in the hotel. It is therefore necessary to leave a bit of time before facing them directly, and find a good solution to the problem. Any unforeseen event however also represents an opportunity, because if it is managed well it can also create customer loyalty.
GABRIELE FEDELI - F&B OUTLETS MANAGER FOR ALL THE FOUR SEASONS RESTAURANTS IN FLORENCE
It is the unexpected that makes our work dynamic and fun; that said, you must always be ready for any eventuality: every morning we organise a meeting to present the guests who are staying to the personnel, and our staff is prepared to follow a " standard" procedure according to the occasion, but it is also important to be able to break these rules if necessary.
UMBERTO GIRAUDO - GUEST RELATIONS DIRECTOR, ROME CAVALIERI WALDORF ASTORIA
The unexpected allows us to demonstrate our capabilities and our savoir faire, and even sometimes create a stronger rapport with the client.
For this reason it is fundamental to have high-quality staff, who are "technicians" and know how to operate in their own field; "psychologists", i.e. they understand the situation and can adapt to the client; and "engineers" of their job, that is to say, they know it inside out so that they can be prepared for any circumstance.
The restaurant and hotel business, on the move
GIUSEPPE CARINO - VICE PRESIDENT, GUEST EXPERIENCE, COSTA CRUISES
Just as it used to, a cruise retains the dimension of a "dream," of total relaxation for a whole week. Once, the ships were smaller and you stayed aboard a bit longer; today, in a week, we have to allow our clients to enjoy a unique, tailor-made experience, even though we are sometimes talking about even 5,000 people on board a ship, like our new Costa Smeralda.
What the modern age has introduced is undoubtedly detailed profiling of the client, fundamental for being able to offer a customized experience, in spite of the numbers involved and the fact that logistical difficulties are really considerable.
It is therefore crucial to guarantee good training for all the staff, from those in the kitchens, who go to our schools in their countries of origin, to our managers, who train at our Academy at Arenzano, inaugurated just over a year ago to transmit the Costa Crociere philosophy, which is so important for creating the right "involvement" with the client.
MARCO BERETTA - MARKETING AND PURCHASING DIRECTOR FOR AREAS ITALIA
The mature traveller nowadays sees the airport as a stage of the journey, in which to enjoy a particular experience.
The fundamental aspect is time, so we try to approach the client before their arrival, through the social networks and dedicated advertising: for example, with one of our applications you can book a take-away lunch box that you then collect at the airport; for those, on the other hand, who have time to kill, we have created "premium" formats that offer a special wine and food experience, like the Ferrari Spazio Bollicine which attracts both leisure and business clients with a clear offer (also from a visual point of view), promoting traditional Italian dishes with first-class ingredients and pairing them with Ferrari's outstanding Trentodoc sparkling wines, among others.
CRISTIANA ROMITO - GENERAL MANAGER AT CASADONNA AND OF ALL NIKO'S PROJECTS
Service is a "sense", a predisposition, an ability to take things a step further, but it must definitely be cultivated; what I try to teach my staff is that they have to see, watch and observe, which seem like synonyms, but in fact have different nuances. "Seeing represents the first impression, "watching means going into greater detail, while "observing" implies even greater depth, trying to understand the type of experience the client is seeking, in order to put them at their ease and be able to advise them in deciding what dishes to try.
For us, dialogue between the kitchen and waiting staff is constant, and we have succeeded in creating perfect harmony between them, to the extent that often comments from the dining room that are brought back to the kitchen contribute (when they are constructive) towards modifying a dish.
NIKO ROMITO – THREE-STAR CHEF OF REALE AND CREATOR OF MANY OTHER RESTAURANT FORMATS
My cuisine is nude: I try to work with absolute tastes, with the purity of the ingredients.
For this reason, it is extremely important to make the client understand the dish and so convey the message that I want to transmit. In the dining room, too, we therefore seek authenticity and simplicity, which implies a great deal of elimination.
When we transferred our Reale restaurant to Casadonna I also immediately wanted to create an Academy, aimed at offering an entrepreneurial vision to the students; I ensured that the school invested in training and this led to the ALT project, a restaurant on the main road at Castel di Sangro run entirely by the students: a project with popular appeal, aimed at those in cars, so that they could eat quickly and inexpensively, but with quality products that are speedily prepared and absolutely delicious.