Ferrari bubbles in Montecarlo with Prince Albert at the Bal de l?Eté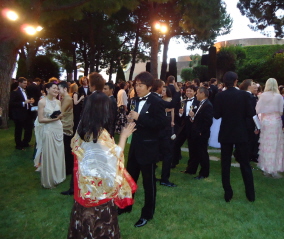 All the international glitterati have made Montecarlo their capital and of course they could not miss the traditional summer ball – Bal de l'Eté. And on Saturday 19th June at the Montecarlo Sporting Club d'Eté, there were plenty of big names, starting with Prince Albert of Monaco, at the event which was inspired by the theme "La Dolce Vita". Naturally Ferrari couldn't miss such a sparkling event and Ferrari Brut, in Magnums, was the star of the opening cocktails.

Ferrari Trento promotes a culture of drinking responsibly which is part of the Italian Art of Living.
It is a culture linked to the ritual nature of food and the celebration of convivial occasions, in which consumption is moderate and informed.
Enter the ferraritrento.com website only if you share this approach and if you are of the legal age to drink alcohol in your country: a world of excellence awaits you!
Access to the site was denied because you are not of legal age to drink alcohol.