Ferrari, one of the great protagonists of Identità Golose 2019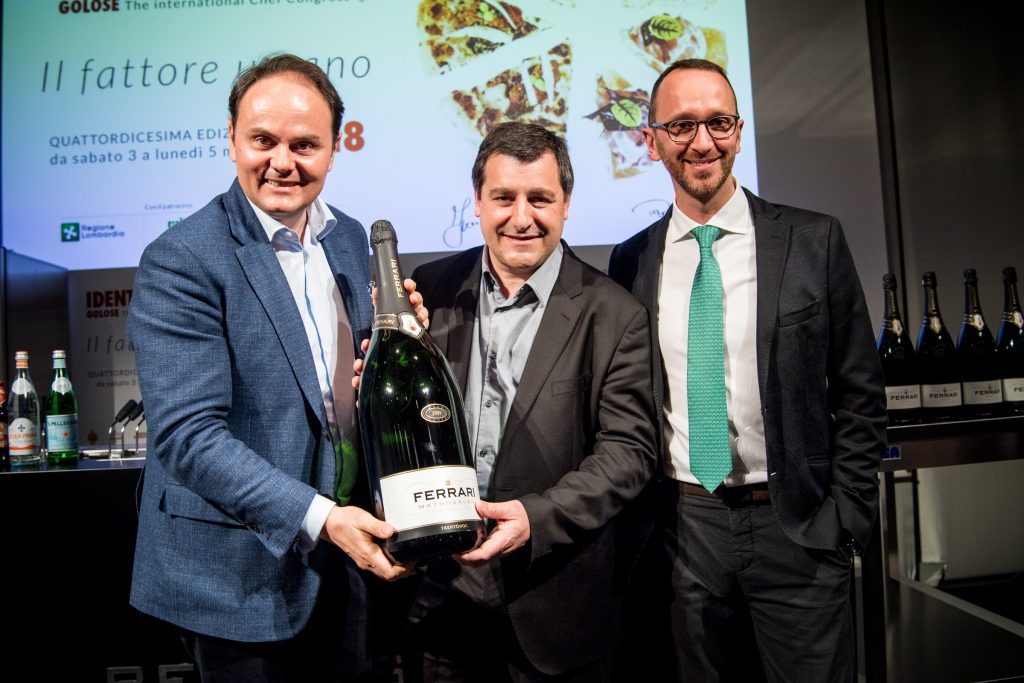 The Identità Golose Congress is back in Milan from 23rd to 25th March. Cantine Ferrari will be present in the main sponsor area, but especially with a full program of events. The protagonist will be the Art of Hospitality once again, that magical combination of welcome, service and conviviality able to make a food&wine experience unforgettable.
On Sunday 24th March, it is time for Identità di Sala, an all-day event that will involve some masters of hospitality discussing several topics. Hereafter, the detailed program of Identità di Sala.
Identità Golose Milan, Sunday 24th March – MiCo Yellow Hall 1:
Identità di Sala Program
10.45 The dining room service when replied in multiple restaurants – Enrico Bartolini (Enrico Bartolini at Mudec, Milan), Enrico Buonocore (Langosteria, Milan) and Giancarlo Perbellini (Casa Perbellini, Verona)
11.30 Future and training: Mariella Organi (Alma), Dominga Cotarella (Intrecci), Matteo Zappile (Noi di Sala), Laura Fratton (Hotel School of Tione, Trento)
12.20 Wine, the winning list
13.10 BREAK
14.30 Hôtellerie, the perfect service: Giampaolo Ottazzi and Emanuele Manfroi (Belmond), Paolo Mancuso (Forte Village) and Attilio Marro (Bulgari)
15.20 Unforeseen events, and how to handle them: Paolo Lorenzoni (The Gritti Palace, Venice), Alessandro Troccoli (Cracco, Milan), Edoardo Sandri and Gabriele Fedeli (Atrium Bar&Lounge – Il Palagio del Four Seasons Hotel Florence), Umberto Giraudo (Rome Cavalieri in Waldorf Astoria Resort)
16.20 Restaurant and hôtellerie when travelling: Giuseppe Carino (Costa Crociere) and Marco Beretta (MyChef – Ferrari Spazio Bollicine)
17.00 How I interpret hospitality: Niko and Cristiana Romito (Reale Casadonna e Spazio)

Ferrari Trento promotes a culture of drinking responsibly which is part of the Italian Art of Living.
It is a culture linked to the ritual nature of food and the celebration of convivial occasions, in which consumption is moderate and informed.
Enter the ferraritrento.com website only if you share this approach and if you are of the legal age to drink alcohol in your country: a world of excellence awaits you!
Access to the site was denied because you are not of legal age to drink alcohol.