Glasses of Trentodoc Ferrari for the guests of The Mountain Gourmet Ski Experience in Courmayeur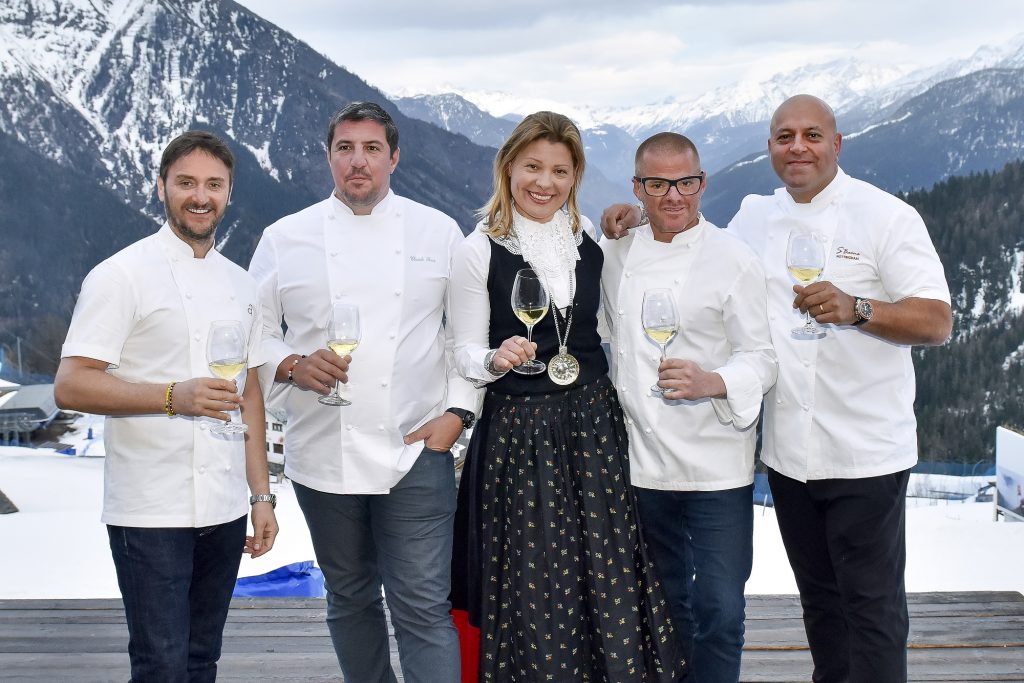 Ferrari's bubbles will sparkle up the Mountain Gourmet Ski Experience, the haute cuisine event that famous chef Heston Blumenthal will host in Courmayeur from March 17 to 19.
Four internationally renowned chefs boasting 13 Michelin stars will cook special dishes for a selected audience that will have the opportunity to enjoy an exclusive weekend featuring haute cuisine meals, skiing, and several toasts with glasses of Trentodoc Ferrari, the mountain bubbles par excellence.
The event will open on March 17, when a flute of Ferrari Maximum Rosé will welcome all guests to the Mountain Barbecue & Informal Dinner hosted at the Grand Hotel Royal & Golf. On Saturday, March 18, it will be time for the dishes of chefs Sat Bains, Claude Bosi, and Jason Atherton to take the stage during the Gourmet Dinner hosted at the restaurant La Chaumière, where the wine selected for the meal will be a Ferrari Perlé 2007. Then, the following night, the same chefs will offer a special menu at the Rustic Dinner served at Maison Vieille and accompanied by a Ferrari Perlé Rosé. Finally, on Monday, March 20, a special lunch will be served in Courmayeur's symbolic building Caffè della Posta to wrap up the weekend, with a final toast featuring a Ferrari Maximum Brut.
This event highlights once more the role of Courmayeur as gourmet capital of the Alps and, after becoming official sparkling wine supplier of the pearl of Mont Blanc, Ferrari Winery is proud to bring a touch of Italian style to such an international event and have the opportunity to join forces with world-renowned chefs such as Heston Blumenthal, who has recently been named winner of the Lifetime Achievement Award given by The World's 50 Best Restaurants, the prestigious ranking that has been partner of Ferrari Winery since 2016.

Ferrari Trento promotes a culture of drinking responsibly which is part of the Italian Art of Living.
It is a culture linked to the ritual nature of food and the celebration of convivial occasions, in which consumption is moderate and informed.
Enter the ferraritrento.com website only if you share this approach and if you are of the legal age to drink alcohol in your country: a world of excellence awaits you!
Access to the site was denied because you are not of legal age to drink alcohol.