Matteo Renzi and Angela Merkel toast with Ferrari sparkling wine at Expo Milano 2015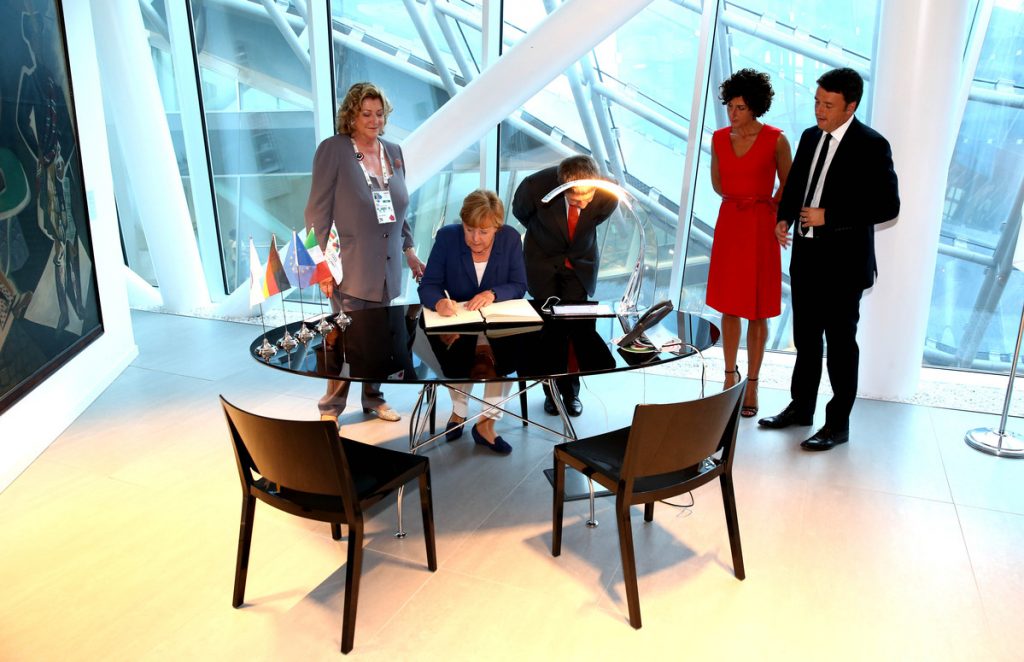 The German Chancellor and her husband were welcomed during their visit to the Expo by our Prime Minister and his wife, Agnese.  After a tour of the Zero and German pavilions the meeting wrapped up at the Palazzo Italia where the couples dined on the terrace with a perfect view of the "Tree of Life".
The dinner orchestrated by Peck was opened with a toast of Ferrari Brut Orgoglio Italia, the label that Ferrari has dedicated to Expo Milano 2015.
The menu devised by Chef Matteo Vigotti of Peck explored the flavours of the sea. The meal began with the classic Peck appetizer followed by paccheri pasta with flowering zucchini and red Sicilian shrimps. The main course was steamed Mediterranean croaker fish with citrus fruits and crisp vegetables. The meal was closed with a chocolate dessert from pastry Chef Alessandro Digiglio.
Seven months after the Florentine dinner between the two Premiers, even on August 17 a Ferrari Trentodoc toast opened the meal, a toast that Renzi at his meeting in June at the Expo with Hollande (Prime Minister of France), claimed to be "better than champagne." 

Ferrari Trento promotes a culture of drinking responsibly which is part of the Italian Art of Living.
It is a culture linked to the ritual nature of food and the celebration of convivial occasions, in which consumption is moderate and informed.
Enter the ferraritrento.com website only if you share this approach and if you are of the legal age to drink alcohol in your country: a world of excellence awaits you!
Access to the site was denied because you are not of legal age to drink alcohol.