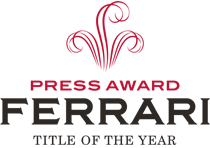 FERRARI REWARDS THE IMAGINATION, CREATIVITY AND TEAMWORK OF ITALIAN NEWSPAPERS.
A title embodies the core of an article, its soul; it is a vivid and daring summary that conveys the strike power of an article and unleashes its disruptive force.
A title alone can provide an account of an entire event, story or period of time.
The best title of a whole year deserves a worthy prize: 1,000 bottles of Ferrari Brut.
Jury
Some of the most notorious names, in Italy and even worldwide, in TV and print journalism, literature and art, with the exception of the managing directors of magazines and newspapers, in order to avoid understandable conflicts of interest. Among Italian journalism awards, one would have to search far and wide before finding a more authoritative and charismatic jury, with the addition of two professionals belonging to Ferrari winery, including its statutory president.
Winner and Nominations of the previous editions