The Rosa Alpina launches the "Ferrari Trento Safari"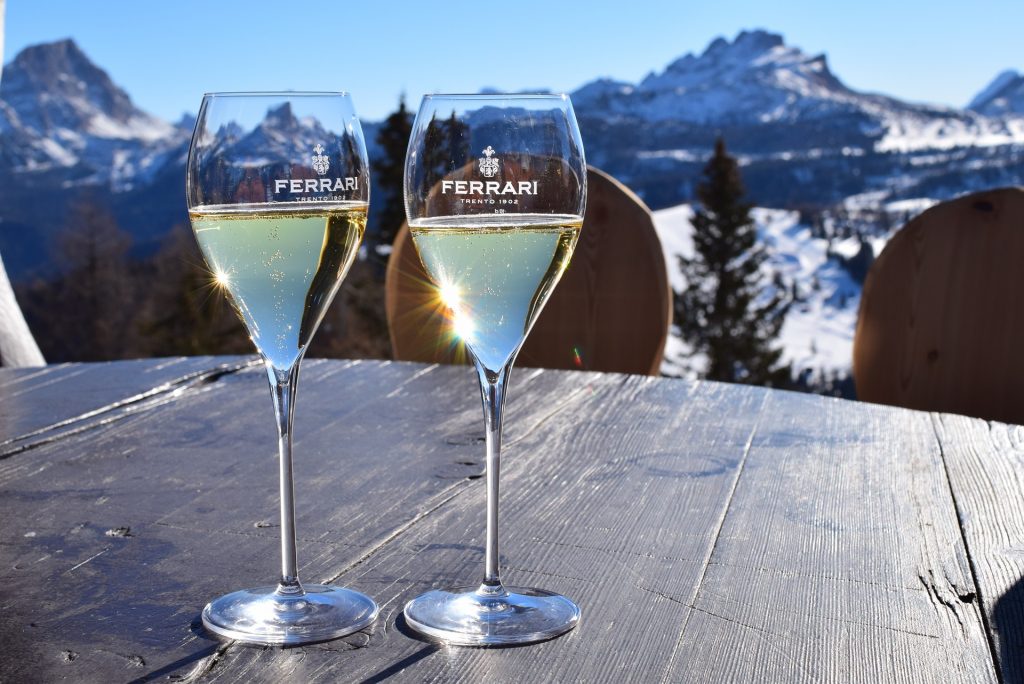 The collaboration between the iconic hotel in Alta Badia and Gruppo Lunelli's winery has been reinforced
The splendid 5-Star Rosa Alpina Hotel at San Cassiano in Alta Badia, a Partner in the  Aman Group, is offering the "Ferrari Trento Safari", a new experience that allows one to enjoy Ferrari's Trentodoc sparkling wines in a number of different situations, in the biggest ski resort in the world.
The "Ferrari Trento Safari" starts with "Pizza&Bollicine" ("Pizza & Bubbly") at the Wine Bar & Grill of the Rosa Alpina and carries on at high altitude at the Rifugio Bioch chalet, with its breath-taking panoramic view of the Dolomites. Here one can taste Ferrari F1® Podium in Jeroboams, from one of the three-litre bottles that is opened by the winning drivers on the podia of Formula 1®, celebrating the fact that Ferrari Trento is, as of this year, the official celebratory wine of motor racing's World Championship.
A picnic in the snow accompanied by a glass of Ferrari Trentodoc is, on the other hand, the treat in store for guests who opt for a full immersion – with a local guide -in the countryside and the fresh snow, with sealskin attached under their skis for better traction. The picnic and sparkling wine are provided by Rosa Alpina, whereas the table of snow is created on the spot by the guide.
Before or after their stay at San Cassiano, guests may also get to know the locations that Ferrari's sparklers come from, experiencing one of the company's "Paths through Beauty and Excellence", which includes a tour of the winery just outside Trento, a visit to the sixteenth-century Villa Margon (Gruppo Lunelli's hospitality centre, immersed in the vineyards), as well as a lunch or dinner at Locanda Margon, Ferrari's Michelin-starred restaurant.
Further information is on the rosalpina.it website

Ferrari Trento promotes a culture of drinking responsibly which is part of the Italian Art of Living.
It is a culture linked to the ritual nature of food and the celebration of convivial occasions, in which consumption is moderate and informed.
Enter the ferraritrento.com website only if you share this approach and if you are of the legal age to drink alcohol in your country: a world of excellence awaits you!
Access to the site was denied because you are not of legal age to drink alcohol.