A "Ferrari Spazio Bollicine" in the Eataly Pavilion at Expo Milano 2015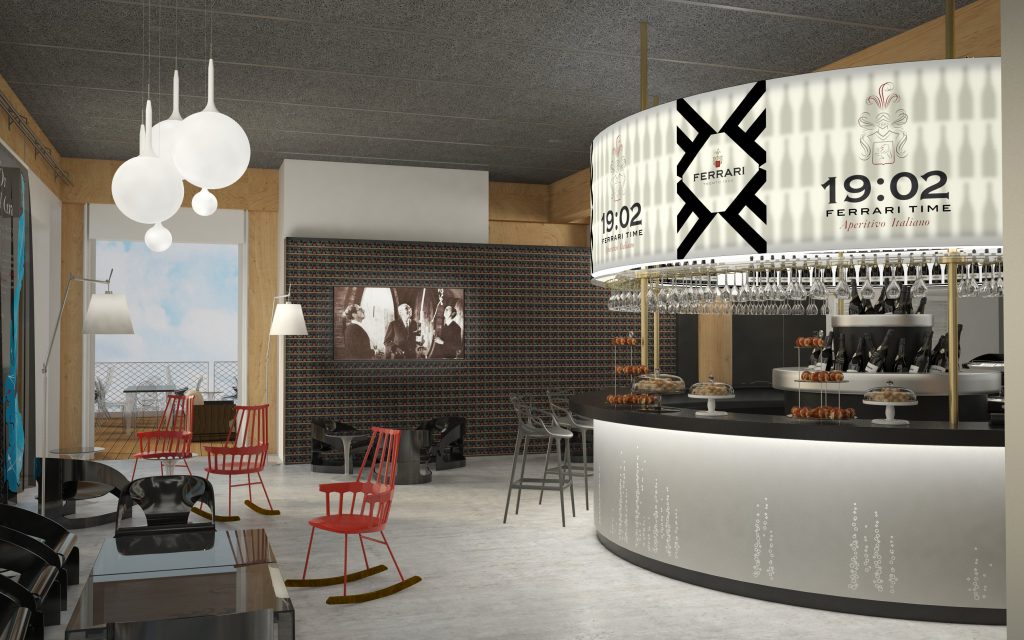 The Italian Art of Living, new ways of experiencing Trentodoc sparkling wines, plus the discovery of "bio-diversity and bio-graphy".
Ferrari Spazio Bollicine will incorporate these concepts and shall be located within the Eataly Pavilion. The restaurant and wine bar will be situated to provide visitors a beautiful view from the terrace of the Decumano, which is the central thoroughfare of Expo Milano 2015. Building on its success in opening venues throughout various parts of Italy, the Trentino winery saw Expo as an ideal opportunity to open its newest Ferrari Spazio Bollicine; a place where the pleasure of toasting is combined with high quality cuisine representative of the rich traditions of Italy.
The project, centered inside of Eataly, is representative of the strong partnership between the two companies which share principles of quality, promotion of Italy and respect for the environment. A Ferrari toast has sealed the opening of all the new Eataly stores worldwide, and has accompanied them through the years in an exceptional success story.
The newest Ferrari Spazio Bollicine will encompass 400 square meters composed of an internal section and covered terrace. It has been shaped in collaboration with famous Italian design brands, namely Kartell and Artemide. Trentodoc labels will be uniquely paired with Alfio Ghezzi's creations, with the starred Ferrari executive chef seeking to emphasize the varied virtues of different Italian regions based on simplicity and genuineness.
Ferrari Spazio Bollicine invites its guests to experience the beauty and excellence of Italy, whilst guiding them on a path of discovery through the "bio-diversity of unique places and the bio-graphy of amazing lives".  Monitors will be installed with the support of Samsung, with a series of screens narrating the uniqueness of the mountain viticulture of Trentino, the efforts Ferrari has taken to create sustainability and the story of the men who believed in the great potential of their land to produce the finest sparkling wines. 
The venue will be enlivened with a series of wine tastings and show cooking events throughout the six months of Expo Milano 2015. Each evening at exactly 19:02, which  represents the year Ferrari was founded, will feature Ferrari Time: Aperitivo Italiano, a spectacle dedicated to Italian style aperitivo with music, a dj and numerous toasts.
"Expo is an incredible opportunity and challenge for Italy," said Matteo Lunelli, president of Ferrari Winery, "and we would like to contribute.  At Expo we will share our efforts in sustainability and represent once again the Italian Art of Living.  The Ferrari Spazio Bollicine concept has given us great satisfaction and we are especially proud to have the opportunity to bring it, for the first time, into Eataly; which is a fantastic showcase of Italian excellence."