Ferrari is the toast at the Italian Pavilion for the Expo Milan 2015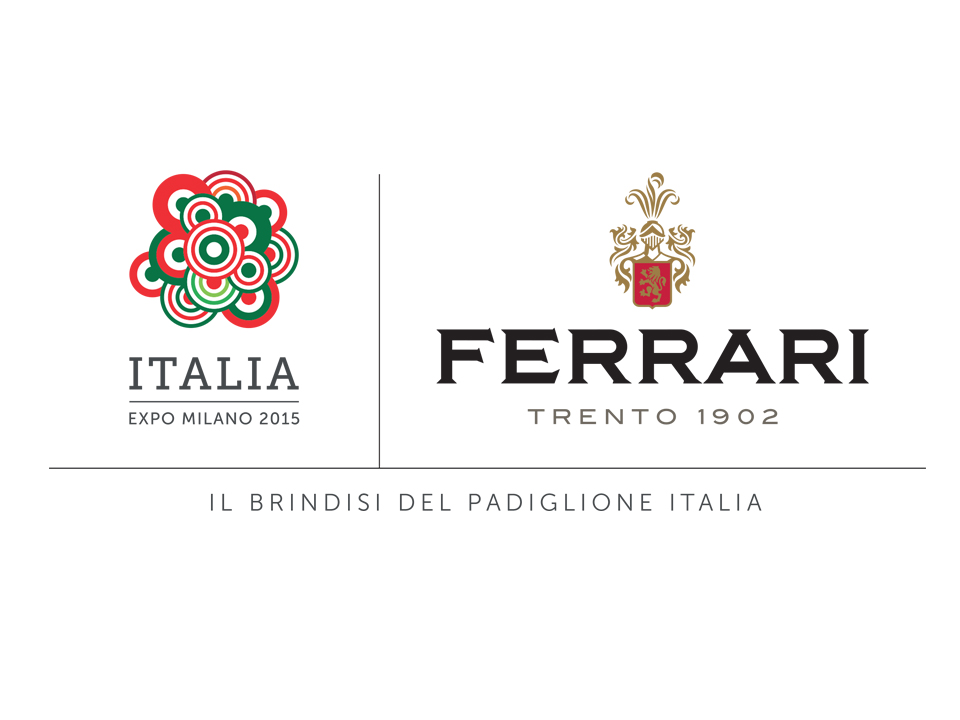 Italian sparkling wine par excellence, Ferrari has been selected by the Italian Pavilion at the Milano Expo 2015, as the signature toast of this momentous occasion.
Visiting celebrities and political figures will be welcomed to the Palace Italia with a glass of Trentodoc sparkling wine. In this way Ferrari will carry forward its tradition as the celebrated "Toast of Italy," which has always sealed memorable occasion for Italy, whether governmental, sporting, or entertainment.
Ferrari's connection with the Expo has historic roots leading back to the International Exhibition in Milano in 1906. During that occasion the small Trentino winery, founded only 4 years earlier, won the Gold Medal, the first in a long tradition of successes.
Over a century later, at the Expo Milano 2015, Ferrari is participating in dual roles. The first being ambassador of the best of "made in Italy." In this role Ferrari will follow the theme, "Feeding the Planet, Energy for Life," which represents the nutrition of not only the body, but also the spirit as seen in the embodiment of culture, beauty and creativity.
In its secondary role, the winery will bring its experience as a leader in the sustainability sector. Ferrari cultivates all of its own vineyards according to organic principles and supports a culture of sustainability with its 500 vine growers who supply grapes to the winery. It is in this regional network that the project, "The Ferrari Vineyard – A mountain viticulture for sustainability and well-being", was born out of mutual trust and strong collaborative ties. A CSQA certified protocol seeks to join the highest production of grape quality with a respect for the environment and health of the vine growers. 
Ferrari has decided to celebrate the return of Expo to Milano and its prestigious collaboration with the Italian Pavilion, by personalizing its historic and most celebrated label, Ferrari Brut. The classic label will be adorned with the motto "Orgoglio Italia", as chosen by the Italian Pavilion for its partners. The bottles of Ferrari Brut sold during the exposition, both within and without the pavilion, will act as ambassadors to this great event and the fundamental role Italy will play.
In addition Ferrari will release an exclusive Riserva with a limited production of 2015 numbered bottles, inspired by the futuristic design of the Palazzo Italia. This prestigious reserve wine, which has been carefully preserved for nine years in the silence of the cellar, will be presented to celebrated guests of the Italian Pavilion.
"We are honored to be the toast of the Italian Pavilion and to be present at this historic moment for our country," said Matteo Lunelli, chairman of Ferrari Winery. "Expo is an incredible opportunity and challenge for Italy and we would like to contribute. Our return to the Milano Expo after a century is very meaningful to us. In 1906 when we won the Gold Medal, we were just a little winery, a start up in today's terminology. The drive for excellence and the connection to our native land of Trentino still remain our core values, but this year we are proud to return to Expo as world-wide ambassadors of the Art of Italian Living and to present our great work in sustainability."
"We are very excited that the toast of the Italian Pavilion will be celebrated with a prestigious label which has, for many years, been the pride of Italy," agrees Diana Bracco, president of Expo 2015 S.p.a. and section general commissioner of the Italian Pavilion. "We have a large responsibility; that of highlighting the excellence of Italy and keeping alive the Italian cultural roots for the future. Therefore we are proud to collaborate with a historic house like Ferrari, which joins century old traditions with a continuing drive to innovate, and shares the values of the pavilion and the Expo's commitment to sustainability."
"Wine is one of the products which best embodies the ability of our country to reinvent itself and to face challenges and gain new opportunities," declares Maurizio Martina, Minister of Agriculture, Food and Forestry. "The Italian Pavilion experience will demonstrate the quality of an extraordinary sector which has reached an export record of over 5 billion euro. In this great achievement the sparkling wine sector contributed significantly, precisely because they are demonstrating our technical capacity to highlight the best in our land through wine, as greatly interpreted by Ferrari."