A toast with Ferrari seals the "indestructible" friendship between Italy and France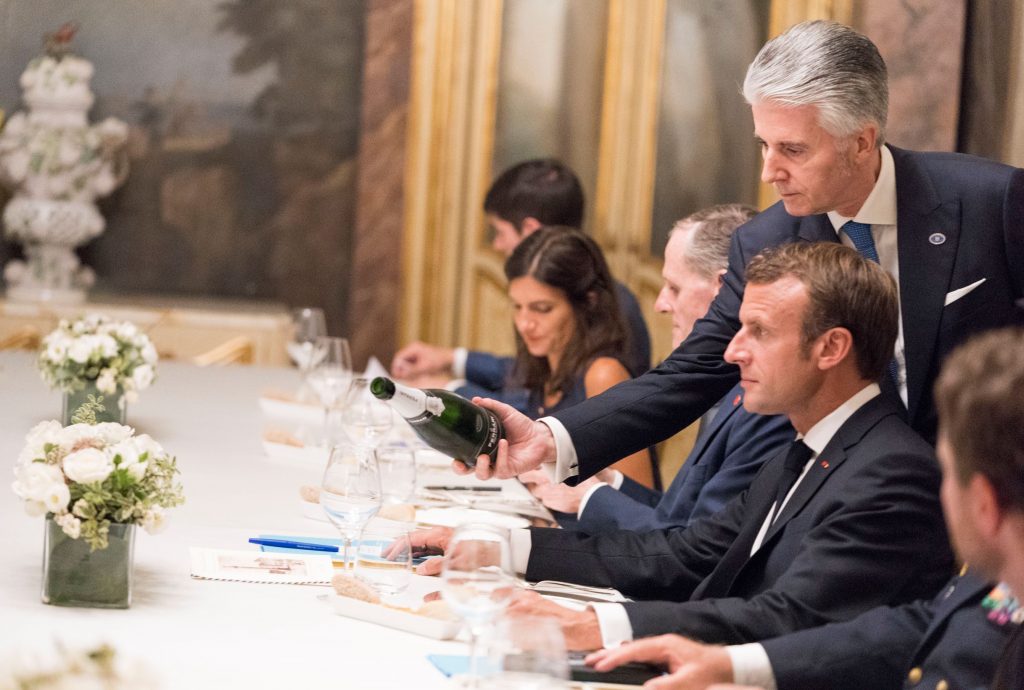 Prime Minister Conte welcomed President Macron offering just one wine, Ferrari Perlé Bianco Riserva Trentodoc, to accompany dinner at Palazzo Chigi
A toast with Ferrari between Emmanuel Macron and Giuseppe Conte sealed the friendship between Italy and France – which the French President himself described as "indestructible" – at the end of their intense day of meetings in Rome on 18th September.
Ferrari Perlé Bianco Riserva 2009 was the only wine served at the dinner that Prime Minister Conte organised for Macron at Palazzo Chigi. The combination of the Trentodoc sparkling wine with the dishes prepared by Massimo Viglietti, chef of the Enoteca Achilli al Parlamento, was much appreciated. The menu consisted of a salad of wild greens with baccalà and foie gras, and marinated amberjack with a tapenade of Taggiasca olives, white chocolate and a hint of pesto.
It is not the first time that a French leader has had an opportunity to enjoy Ferrari's sparklers: including François Mitterrand, whose letter of thanks the Lunelli family still preserve; Jacques Chirac; and Prime Minister Manuel Valls who, during his stay in Trento in 2015, visited Villa Margon, the Lunelli Group's Renaissance maison, and had lunch at Locanda Margon.
Ferrari – which in a few days' time will be uncorked by the stars of Hollywood on the occasion of the Emmy® Awards, – has shown itself once again to be Italy's celebratory wine par excellence, chosen on the most important occasions (whether "official" or otherwise) as an icon of the Italian Art of Living.

Ferrari Trento promotes a culture of drinking responsibly which is part of the Italian Art of Living.
It is a culture linked to the ritual nature of food and the celebration of convivial occasions, in which consumption is moderate and informed.
Enter the ferraritrento.com website only if you share this approach and if you are of the legal age to drink alcohol in your country: a world of excellence awaits you!
Access to the site was denied because you are not of legal age to drink alcohol.