Focaccia and mortadella with Bronte pistachios

The bold freshness of Pinot Noir and the persistent dryness of this Trentodoc cleanse the palate and set off perfectly the aromatic aftertaste of the pistachios.
Origin and pairings
The authenticity of outstanding raw materials is the perfect secret ingredient to bring an unforgettable taste experience to your table. Crispy focaccia and mortadella with Bronte pistachios is a simple and delicious starter that your guests will be sure to love.
The origins of mortadella with Bronte pistachios stretch so far back in time that some believe it dates from the days of the Roman Empire. According to legend, farcimen myrtatum—known and appreciated by the Romans and described by Pliny the Elder—was the ancestor of this sublime cold cut. Dense and "silky", the mortadella is dotted with green Bronte DOP pistachios and is sure to win diners over with its enveloping aroma of spices and aromatic hint of pepper. This cold cut combines sweetness and rich flavor and is perfect when paired with crispy artisan focaccia.
The starter can be served in rustic style on a wooden board, placing the mortadella slices directly on the freshly baked focaccia, or as more elegant finger food, with morsels of mortadella enhanced by focaccia seasoned simply with oil, salt and the addition of a sprinkling of Bronte pistachios.
To showcase this simple recipe, ideal for sharing with friends as an aperitif, it is important to pair it with a wine that boasts a soft and lingering flavor. The Ferrari Perlé Nero Riserva, the company's first and only Blanc de Noirs, is a vintage wine that is the result of forty years' experience of a variety as delicate as Pinot Noir. Its spectacular complexity on the nose, full of tropical sensations that range from fruity to mineral and even toasted, is the perfect note to add an embracing and majestic finish to this symphony of flavors.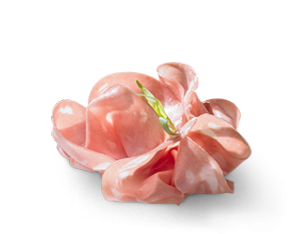 Ferrari Trento promotes a culture of drinking responsibly which is part of the Italian Art of Living.
It is a culture linked to the ritual nature of food and the celebration of convivial occasions, in which consumption is moderate and informed.
Enter the ferraritrento.com website only if you share this approach and if you are of the legal age to drink alcohol in your country: a world of excellence awaits you!
Access to the site was denied because you are not of legal age to drink alcohol.