Focaccia with butter and anchovies from Cetara

The impetuous tanginess of the anchovies is tamed to perfection by the creamy complexity of this Trentodoc Riserva.
Origin and pairings
Aperitif is the ideal time of the day for a quick and unpretentious recipe. Bring authentic flavors to your table with a handful of ingredients that showcase each other, such as focaccia with butter and anchovies from Cetara.
The undisputed star of this trio is the Cetara anchovy, caught at night and processed just a few hours later in keeping with the centuries-old traditions of Cetara, a famous seaside village nestled on the Amalfi Coast.
Delight your guests with an aperitif that boasts the true flavor of the sea, using this ideal ingredient that can be enjoyed salt-cured, marinated or with the addition of spices.
To bring out the flavor of the anchovies to the full, we recommend placing your trust into other famous traditional Italian ingredients: soft, fragrant focaccia and butter, with a sweetness that balances the salty anchovies. This simple and authentic recipe was invented by Sicilian fishermen from Aci Trezza, who made it the symbol of the feast of the Virgin Mary. Perfect for recreating as an aperitif, it can be served in rustic style on a wooden board or plated as an elegant finger food.
The ideal wine to be paired with this mouthwatering aperitif is the Ferrari Riserva Lunelli, a Trentodoc Riserva whose maturation in large Austrian oak casks adds richness and extraordinary complexity of flavor. The explosive saltiness of the anchovy is softened by the fruity balance of this Trentino wine, which alternates floral perceptions with exotic citrus-like fruit tones for a rounded and unrepeatable tasting.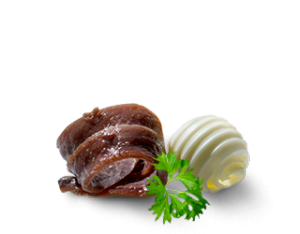 Ferrari Trento promotes a culture of drinking responsibly which is part of the Italian Art of Living.
It is a culture linked to the ritual nature of food and the celebration of convivial occasions, in which consumption is moderate and informed.
Enter the ferraritrento.com website only if you share this approach and if you are of the legal age to drink alcohol in your country: a world of excellence awaits you!
Access to the site was denied because you are not of legal age to drink alcohol.