Ferrari Brut becomes World Champion Blanc de Blancs and Best Italian Sparkling Wine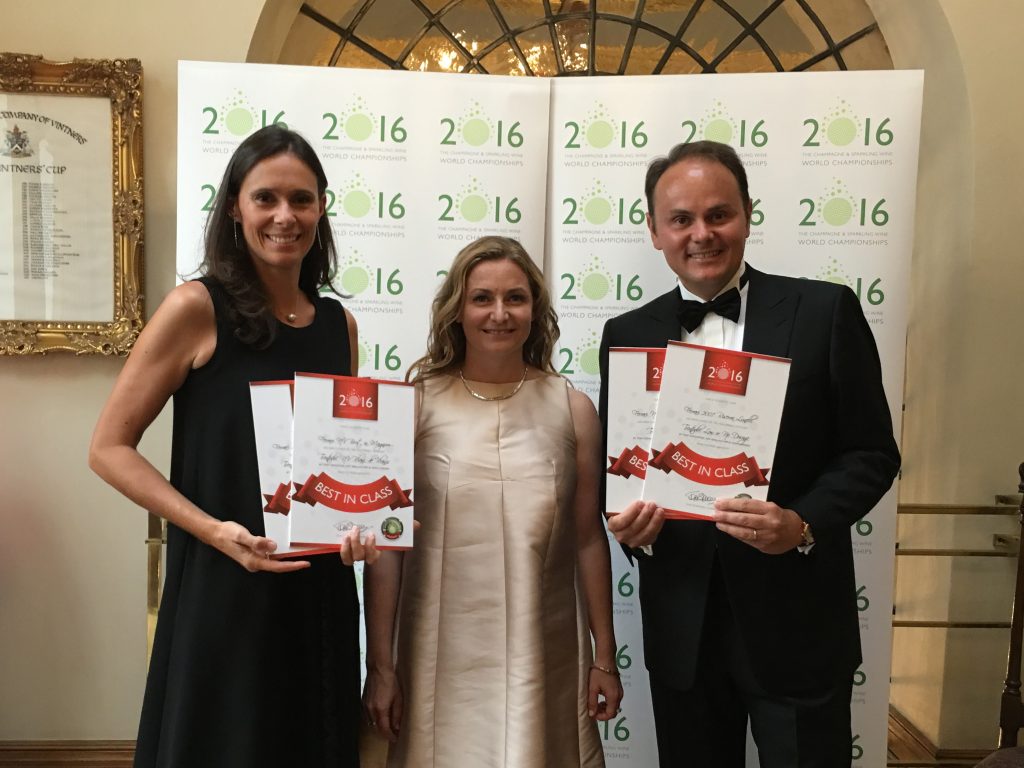 Ferrari Brut NV, the wine with the longest tradition among those produced by Ferrari Trento, achieved a great success at The Champagne & Sparkling Wine World Championships, seizing two trophies: "World Champion Classic Blanc de Blancs" and "Best Italian Sparkling Wine".
The 2016 edition of the prestigious competition organised by Tom Stevenson, an authority in the wine making industry, had already awarded five gold medals to the Trentodoc wines produced by Ferrari and, with the two prizes conquered during the gala dinner hosted on September 1st at Vintner's Hall in London, Ferrari Brut has officially become one of the best sparkling wines in the World.
After awarding prizes to Ferrari Perlé in the previous editions of the event as well as naming Ferrari Trento "Sparkling Wine Producer of the Year" in 2015, this year the judging panel of the most prestigious sparkling wine competition in the World paid tribute to the non-vintage Ferrari Brut, which was highly appreciated in its magnum version. An extraordinary success for the flagship product of Ferrari Winery, which embodies the perfect combination between Trentino's territory and Chardonnay grapes.
These prizes come as a direct result of an approach based on the search for excellence in every bottle, from non-vintage to reserve wines. Furthermore, Ferrari Brut's triumph as best Blanc de Blancs in the World is the ultimate proof that Ferrari Winery took indeed the right direction in deciding to focus on a wine that enhances at best the features of the Chardonnay grapes grown on the mountains of Trentino, whose potential was spotted more than one century ago by Giulio Ferrari.

Ferrari Trento promotes a culture of drinking responsibly which is part of the Italian Art of Living.
It is a culture linked to the ritual nature of food and the celebration of convivial occasions, in which consumption is moderate and informed.
Enter the ferraritrento.com website only if you share this approach and if you are of the legal age to drink alcohol in your country: a world of excellence awaits you!
Access to the site was denied because you are not of legal age to drink alcohol.