Ferrari F1®Limited Edition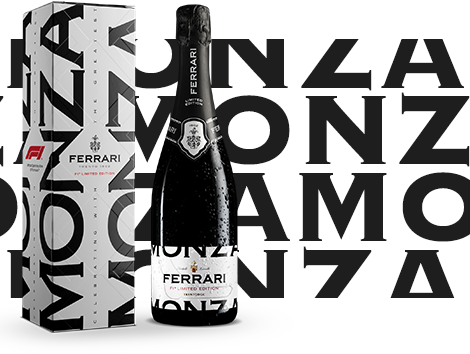 Ferrari Trento has chosen the FORMULA 1 HEINEKEN GRAN PREMIO D'ITALIA 2021, scheduled on 12th September in Monza, to present its new Ferrari F1® Limited Edition, a special Blanc de Blancs cuvée that celebrates four of the iconic Grands Prix in the FIA Formula 1® World Championship, for which the Trento-based producer is the official toast.
This special wine will be available in four versions, each dedicated to one of the circuits that are dearest to the hearts of lovers of motor sports: apart from Monza also Silverstone, Suzuka and Sochi will in fact have their own label and customised gift pack, with an attractive, dynamic design.
The Ferrari F1® Limited Edition is a Blanc de Blancs cuvée, an expression of that Chardonnay from mountainside vineyards which the winery in the Lunelli Group has made popular all over the world. Matured on its lees for 38 months, this Trentodoc displays great intensity on the nose, with notes of ripe fruit as well as hints of crusty bread and hazelnuts; the wine's flavour is inviting and satisfying, thanks to its freshness and the fineness of its bubbles, with an aftertaste that combines mineral sensations with citrusy nuances.
The Ferrari F1® Limited Edition is, therefore, a must-have for enthusiasts and collectors, who will be able to buy all four versions in the best wine shops and online, as well as at the Ferrari winery (for information: enoteca@gruppolunelli.it, tel. +39 0461 972331). Owning one of these bottles means adding to one's cellar a wine that automatically represents a little piece of history, because it celebrates the first time that an Italian sparkling wine has been on the podium of the FIA Formula 1® World Championship.

Ferrari Trento promotes a culture of drinking responsibly which is part of the Italian Art of Living.
It is a culture linked to the ritual nature of food and the celebration of convivial occasions, in which consumption is moderate and informed.
Enter the ferraritrento.com website only if you share this approach and if you are of the legal age to drink alcohol in your country: a world of excellence awaits you!
Access to the site was denied because you are not of legal age to drink alcohol.