Giulio Ferrari Riserva del Fondatore 2009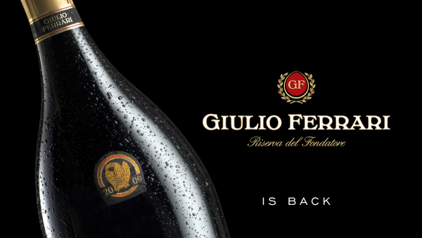 Ferrari Trento is proud to present the 2009 Giulio Ferrari Riserva del Fondatore: a vintage that stands out with its intriguing floral bouquet and extraordinary persistence, a harbinger of notable longevity.
2009 was characterised by a very cold winter with abundant rainfall, followed by a similarly hot spring which brought the vegetative development of the vines back to the normal level. Good thermal excursions during the summer allowed Ferrari to harvest grapes that were perfectly healthy and rich in aromas. An excellent balance between potential alcohol and acidity provided the basis for a great vintage.
After more than 10 years' maturation on its yeasts, the Giulio Ferrari 2009 now reveals all its elegant complexity. In the glass, it offers golden highlights and a perlage that charms you with its finesse and persistence, while the nose is remarkably intense, immediately revealing floral notes of jasmine, but also sensations of quince, sweet oranges and gingerbread. The palate confirms the great richness promised by the bouquet; the flavour is creamy yet vibrant at the same time, and is rendered practically interminable by an attractive shot of iodine. The end palate returns to delicate spicy notes and hints of exotic fruit, giving the wine great length and underlining its extraordinary class.
This vintage therefore confirms the unique quality of the Trentodoc created in 1972 thanks to the brilliant idea of Mauro Lunelli, which broke the mould and has become a symbol of the challenge against time. It is a super-premium product that continues to reassert the potential of Chardonnay from mountainside vineyards, a factor that Giulio Ferrari, the winery's founder, was the first to believe in. It is to him that this outstanding wine, the most award-winning Italian sparkler ever, is dedicated.

Ferrari Trento promotes a culture of drinking responsibly which is part of the Italian Art of Living.
It is a culture linked to the ritual nature of food and the celebration of convivial occasions, in which consumption is moderate and informed.
Enter the ferraritrento.com website only if you share this approach and if you are of the legal age to drink alcohol in your country: a world of excellence awaits you!
Access to the site was denied because you are not of legal age to drink alcohol.