"Ferrari Hommage" was the official toast of the Prime Minister of Japan Abe in Rome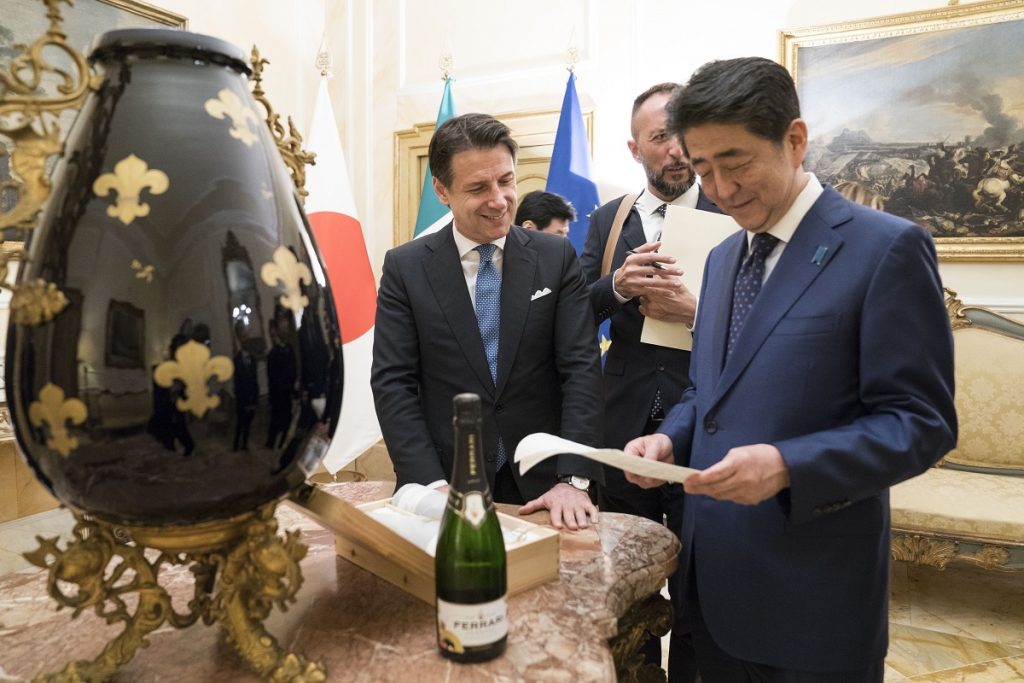 At Palazzo Chigi preview of the special cuvée Trentodoc dedicated to the new imperial era of Japan
A Ferrari limited edition dedicated to Japan sealed the meeting between Prime Minister Conte and the Prime Minister Shinzo Abe in Rome on 24th April.
"Ferrari Hommage" is the name of the special Trentodoc cuvée, a Blanc de Blancs aged more than 40 months on the yeasts, conceived to pay homage to Japan and to Reiwa, their new imperial era. The new emperor will be Naruhito, who is taking the place of the outgoing Akihito on May 1st. Reiwa means marvellous harmony and its roots come from the anthology of classic poetry Man'yōshū, the most ancient one in Japan.
The label "Ferrari Hommage" is a real tribute to the Japanese culture and encloses many representational auspicious motifs of the Japanese tradition. First of all, the fan that in Japan pertains to the habit, the art and poetry and symbolizes good luck. Ferrari wisely combined the fan with a decoration of important Japanese flowers such as the chrysanthemum, the emblem par excellence of the imperial family, and the plum blossom, symbol of patience and vitality as these flowers are the first to bloom after winter. Then, the pine, representing longevity and immortality, and the bamboo, symbol of prosperity.

This special bottle is dedicated to the important historic moment of Japan and to the exclusive relationship that Ferrari has with this country, where Ferrari has been distributed by JET (Japan European Trading) for over twenty years. There, Ferrari is recognized as ambassador of the Italian art of living, that special Italian attitude for authenticity and the "well done" the Japanese appreciate so much. Moreover, Trentodoc sparkling wines, thanks to their elegance and versatility, perfectly pair with the Japanese food.
"Ferrari Hommage", which accompanied the lunch of the Prime Ministers Abe and Conte on 24th April, will be available in the most prestigious restaurants of Japan starting from May.

Ferrari Trento promotes a culture of drinking responsibly which is part of the Italian Art of Living.
It is a culture linked to the ritual nature of food and the celebration of convivial occasions, in which consumption is moderate and informed.
Enter the ferraritrento.com website only if you share this approach and if you are of the legal age to drink alcohol in your country: a world of excellence awaits you!
Access to the site was denied because you are not of legal age to drink alcohol.