Ferrari is the official wine of the 2020 "Michelin Guide Star Revelation" for the Nordic Countries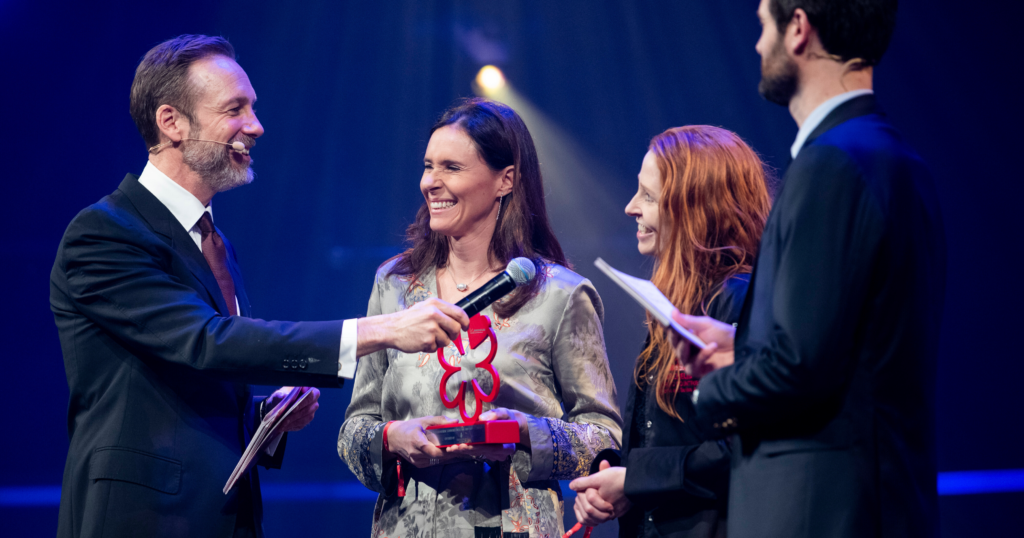 Ferrari Trento was a partner for the Michelin Guide at the presentation of its new edition devoted to the Nordic Countries, which took place on 17th February at the Olavshallen Concert Hall in Trondheim, Norway. The Northern European countries – Norway, Denmark, Sweden, Finland and Iceland – have in fact always been a cradle for creative culinary talent, which Michelin rewards each year with its coveted "stars".
This was a special event, which brought together all the finest chefs in the Nordic Countries. Not only were the "stars" for Northern European cuisine revealed, but other aspects of the top restaurant scene were rewarded, such as the fundamental role of the waiting staff in the form of the "Welcome and Service" prize, sponsored by Ferrari Trento.
Indeed, it was Camilla Lunelli, Communication and P.R. Director of the Trentino producer, who went up on stage to reward the restaurant which, according to the Michelin judges, had distinguished itself most for its unique welcome and which had succeeded in giving its guests that "something extra" which enables them to enjoy a truly extraordinary dining experience. The winner of this prestigious accolade this year was Tina Kragh Vildgaard of the Jordnær restaurant at Gentofte, in Denmark.
The theme of hospitality is one that Ferrari has promoted for many years through important events and initiatives, highlighting how hospitality is a real art: a unique mix of talent, attention to detail and expertise.
The awards ceremony was obviously followed by a party at the Hotel Britannia, where over 500 guests – including chefs, members of the press and opinion leaders –  celebrated with Ferrari's Trentodoc sparkling wines, which accompanied the creations of several famous Michelin-starred chefs, who put on a very special cooking demonstration for the occasion.
Ferrari's liaison with top-flight restaurants is a union that has existed and renewed itself for over a century. It was in fact the establishments of great chefs that were the first to create the success of these sparkling wines from Trentino, and the "word of mouth" of their satisfied clients then led to Ferrari being present on all the most important tables. This message has now also been taken up by the third generation of the Lunelli family, insisting like its predecessors on talking in person with the protagonists of the fine restaurant trade – yesterday only in Italy, but today all around the world.