On the new Costa Smeralda the first Ferrari Spazio Bollicine wine bar on board a ship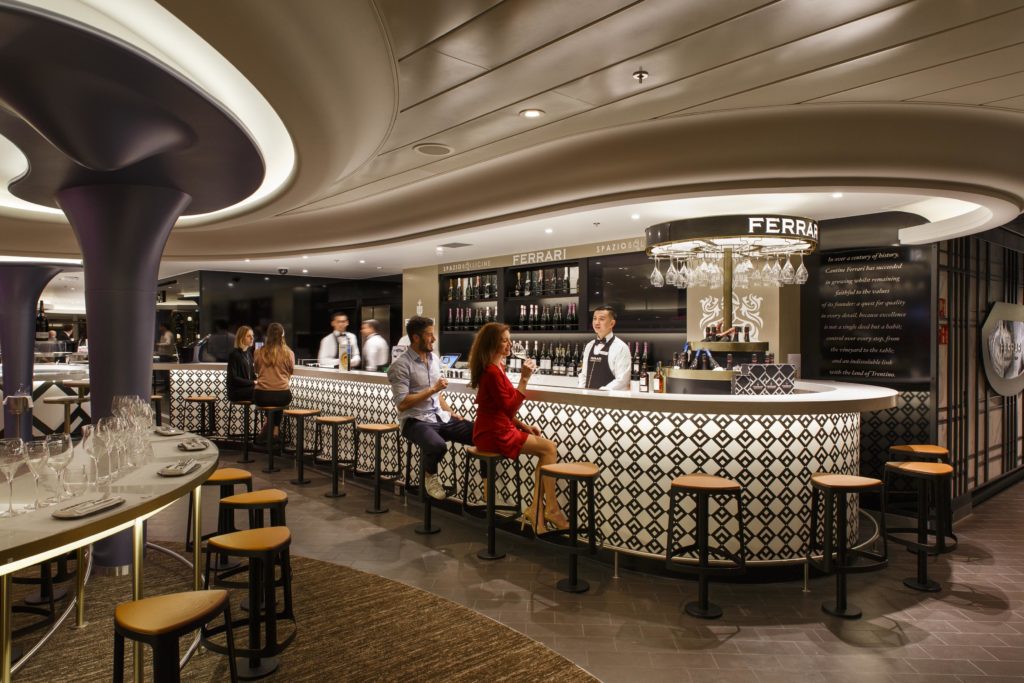 The new flagship of Costa Crociere, the cruise line that offers its guests a holiday travel experience inspired by the style and hospitality of Italy, has been launched with a bottle of Ferrari's Trentodoc. The ship was launched by Penelope Cruz.
A bottle of Ferrari Trentodoc played centre stage in celebrating – on Saturday 22nd February in the port of Savona – the baptism of the Costa Smeralda, the much-awaited new flagship of Costa Crociere, at which Penelope Cruz was the guest of honour. Indeed, it was she, in the presence of the captain of the ship Paolo Benini, who cut the ribbon that allowed a bottle of Ferrari Trentodoc to break against the bow of the ship, in line with true maritime tradition.
Positioned on Deck no. 8, in the gallery of the Colosseo, the heart of the cruise liner, is the first Ferrari Spazio Bollicine on board a ship. Ferrari Spazio Bollicine is the format inaugurated at Madonna di Campiglio in 2005 and already installed with great success by the Trentino winery in the airports of Fiumicino, Malpensa and Linate, as well as at Expo 2015 in Milan. Thanks to their elegant design and top-quality gastronomic offerings – created by Ferrari Trento's Michelin-starred Executive Chef, Edoardo Fumagalli – the Ferrari Spazio Bollicines allow one to combine the pleasure of the Italian celebratory wine par excellence with  an experience of the good and beautiful things our country has to offer. In the new wine bar on the Costa Smeralda one can also try original cocktails based on our Trentodoc sparklers, including Ferrari Smeralda, a tantalising mix of Ferrari Maximum Blanc de Blancs and passion fruit syrup, specially created for this venue. The wine list is completed by the other products of the Lunelli Group: from the elegant wines from Trentino, Tuscany and Umbria of the Lunelli Estates to a selection of Prosecco Superiores from Bisol1542 and the grappas of Segnana; not forgetting, of course, the mineral waters from Surgiva.
Ambassadors of the Ferrari Trento style, the Spazio Bollicine wine bars exemplify the very essence of the Italian lifestyle and the pleasure of conviviality, evoking the prestige of the Trentino producer through their refined, contemporary design, developed in conjunction with the Robilant&Associati studio, the Rockwell Group and the contribution of leading firms in Italian design.
In this context, the Ferrari Spazio Bollicine perfectly espouses the philosophy with which the Costa Smeralda has been built: a true tribute to the beautiful things of our country, starting with the name of the ship, which recalls one of Sardinia's most spectacular tourist areas, and the names of its decks and public areas, all derived from famous locations in Italy.