Ferrari Maximum Blanc de Blancs for the launch of Luna Rossa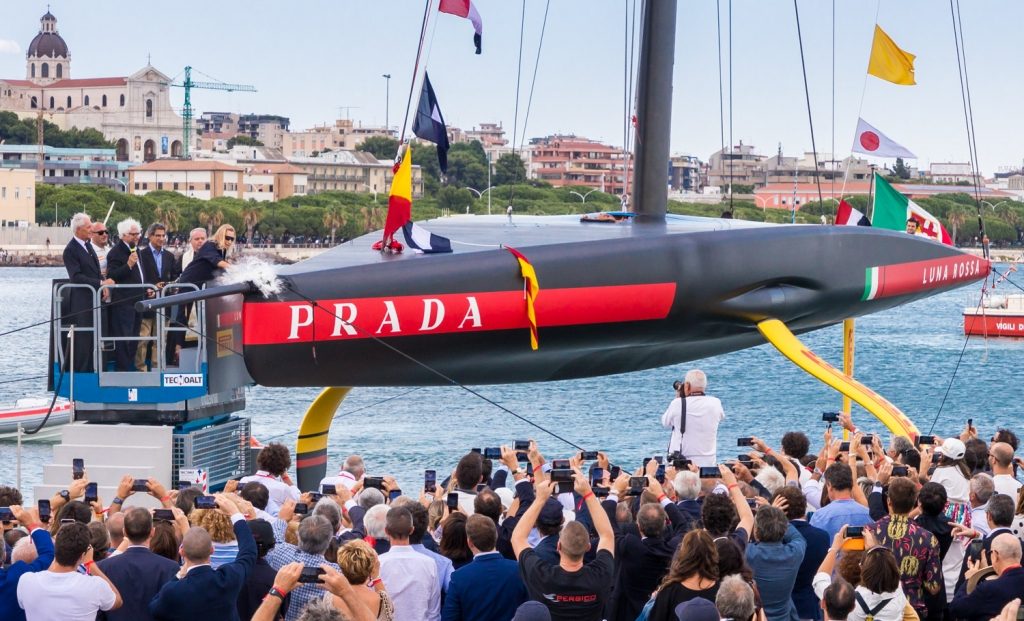 The official presentation of the new AC75 was celebrated with Ferrari's Trentodoc sparkling wine
It was a bottle of Ferrari that celebrated the launch of the eagerly awaited AC75, Luna Rossa's new flying monohull for the 36th America's Cup. The inauguration took place on 2nd October at the Ichnusa Pier, in the centre of the city of Cagliari, the operational base for the Luna Rossa Prada Pirelli Team managed by Patrizio Bertelli. The event's Guest of Honour was Miuccia Prada who, in the presence also of Agostino Randazzo, President of the Yacht Club of Sicily, of Marco Tronchetti Provera, CEO of Pirelli, co-title sponsor of the Luna Rossa Team and partner in the craft's technological development, and of His Eminence Monsignor Arrigo Miglio, Archbishop of Cagliari, baptized the vessel with Ferrari Maximum Blanc de Blancs, the new wine presented by the Trentino company just a few days ago at a splendid party in Milan.
Everyone was on tenterhooks, therefore until 3 p.m., when the huge "winged" monohull finally entered the water. The AC75 has been specially designed to fly through the waves and amaze everyone at the thirty-sixth edition of the America's Cup, which will take place in Auckland in 2021.
Ferrari's sparklers then accompanied the celebrations of the team and of the guests at the event, who included members of the press and such illustrious personalities as the skier Sofia Goggia, the swimmer Gregorio Paltrinieri and the football coach Rolando Maran with some football players of the team.
"We are proud to have marked with a toast with Ferrari the start of a great Italian challenge, which brings together some of our country's outstanding companies and products", commented Matteo Lunelli, President and CEO of Cantine Ferrari.

Ferrari Trento promotes a culture of drinking responsibly which is part of the Italian Art of Living.
It is a culture linked to the ritual nature of food and the celebration of convivial occasions, in which consumption is moderate and informed.
Enter the ferraritrento.com website only if you share this approach and if you are of the legal age to drink alcohol in your country: a world of excellence awaits you!
Access to the site was denied because you are not of legal age to drink alcohol.