Ferrari Sparkles, Stars Shine at the 68th Annual Emmy® Awards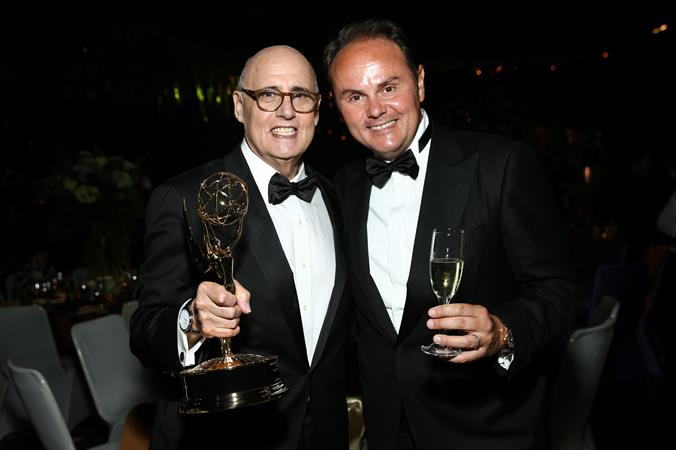 Ferrari Trento makes its second consecutive appearance at the 68th Emmy® Awards, this year as The Official Sparkling Wine Partner. Ever wonder what it's like behind the scenes at TV's biggest night? Ferrari has insider photos of the red carpet, the exclusive black carpet, and the spectacular Governors Ball in the photo gallery. Some of the incredible talent on hand included Aziz Ansari, Claire Danes, Jeffrey Tambor, Padma Lakshmi, Sarah Paulson, John Travolta, Lindsey Vonn, Lisa Vanderpump and Barbara Lazaroff.
Stars were treated to Ferrari's flagship Brut upon arrival ― glittering flutes of Ferrari Trentodoc awaiting them on the black carpet. This stylish display was just one aspect of a memorable evening in which 10,000 glasses of Ferrari were served. Throughout the Emmy Awards celebration on Sunday, September 18, nominees and guests toasted the winners with Ferrari.
"We are glad to bring a touch of Italian Lifestyle to this amazing event and toast the achievements of this year's Emmy nominees," stated Matteo Lunelli, President and CEO of Ferrari Trento who attended the Governors Ball. "It was fantastic to see these performers celebrating the Emmys with Ferrari Trentodoc and we are honored to support the incredible energy driving Television Arts & Sciences in America."
Italy's most awarded sparkling wine, Ferrari Brut recently earned the coveted "World Champion Blanc de Blancs" title at the Champagne & Sparkling Wine World Championships. The 68th Emmy Awards may be over, but follow these tips to make every occasion a sparkling one.
Salute the winners with one final toast of Ferrari! Check out more pictures and happenings from the Emmys at #ToastFerrari and #Emmys. 

Ferrari Trento promotes a culture of drinking responsibly which is part of the Italian Art of Living.
It is a culture linked to the ritual nature of food and the celebration of convivial occasions, in which consumption is moderate and informed.
Enter the ferraritrento.com website only if you share this approach and if you are of the legal age to drink alcohol in your country: a world of excellence awaits you!
Access to the site was denied because you are not of legal age to drink alcohol.