Ferrari sparkling wine launches the fantastic new Luna Rossa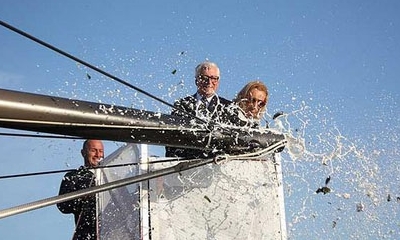 In Auckland, New Zealand at 6.30 p.m. was the ideal time for sipping a glass of Ferrari and the ideal time for the launch of the new Luna Rossa, a fantastic 72-foot catamaran with which Prada will attempt to win the 34th edition of the Auld Mug, better known as the America's Cup. October 26th at 18:30 in Auckland corresponded to early dawn, Saturday in Italy. At that time, Patrizio Bertelli, Miuccia Prada, and several friends of the grand couple of Italian fashion, partners, and many journalists attended the launch of the new Luna Rossa and toasted with Ferrari. A good luck toast to Luna Rossa and the entire team!

Ferrari Trento promotes a culture of drinking responsibly which is part of the Italian Art of Living.
It is a culture linked to the ritual nature of food and the celebration of convivial occasions, in which consumption is moderate and informed.
Enter the ferraritrento.com website only if you share this approach and if you are of the legal age to drink alcohol in your country: a world of excellence awaits you!
Access to the site was denied because you are not of legal age to drink alcohol.