Ferrari Trento and Formula 1® together for Emilia-Romagna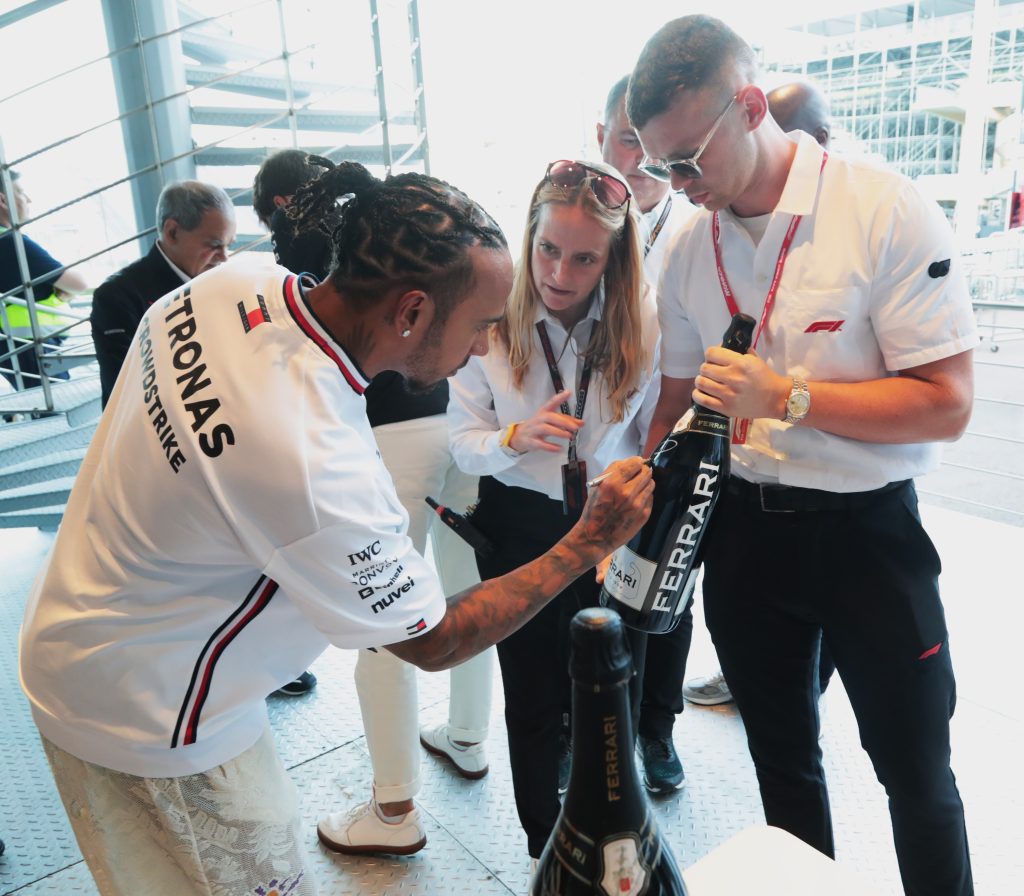 The bottle destined for the Imola Grand Prix podium, signed by all the drivers, to be auctioned on F1 Authentics in support of the areas affected by the flooding.
Trento, May 27, 2023 – After the decision to postpone the Grand Prix of Made in Italy and Emilia Romagna, scheduled to be held in Imola a few days after the terrible flooding that hit the region, Formula 1® and Ferrari Trento wanted to support the reconstruction with a very special auction.
The Ferrari F1® Podium Jeroboam bottle personalised with the Imola circuit, which would have been on the podium, was signed by all the drivers of the Championship and Stefano Domenicali, President and CEO of Formula1®, and auctioned on the F1 Authentics platform.
All the proceeds will be donated to the Agenzia per la Sicurezza Territoriale e la Protezione Civile dell'Emilia-Romagna (Emilia-Romagna Agency for Territorial Safety and Civil Protection), which has immediately activated to help the affected areas.
The unique bottle is available on the official F1® memorabilia website until June 6, together with the trophy that would have been given to the winner and the Pirelli tyre normally given to the driver in pole position.
These are extraordinary memorabilia for which fans all over the world will be ready to offer significant sums, knowing they are also helping a good cause.
Ferrari Trento has become the promoter of this initiative, which was immediately welcomed with enthusiasm by Formula 1® and first and foremost by Stefano Domenicali, a native of the very place hit by the flood, an area in which the world of speed has particularly strong roots, as evidenced by the term Motorvalley by which the region is known.
"As Ferrari Trento we are happy to launch together with Formula 1® and with the support of all the drivers of the Circus a solidarity initiative in support of the areas affected by the flood," commented Matteo Lunelli, President and CEO of Ferrari Trento. "The symbols of the victory of the Grand Prix of Made in Italy and Emilia Romagna 2023, which was never held, can thus become signs of the rebirth of this wonderful territory, which has been hit hard but is proving capable of reacting with courage and determination."

Ferrari Trento promotes a culture of drinking responsibly which is part of the Italian Art of Living.
It is a culture linked to the ritual nature of food and the celebration of convivial occasions, in which consumption is moderate and informed.
Enter the ferraritrento.com website only if you share this approach and if you are of the legal age to drink alcohol in your country: a world of excellence awaits you!
Access to the site was denied because you are not of legal age to drink alcohol.