Ferrari Trento F1® Podium Jeroboams, Signed by Grand Prix Winners, to be Auctioned for Charity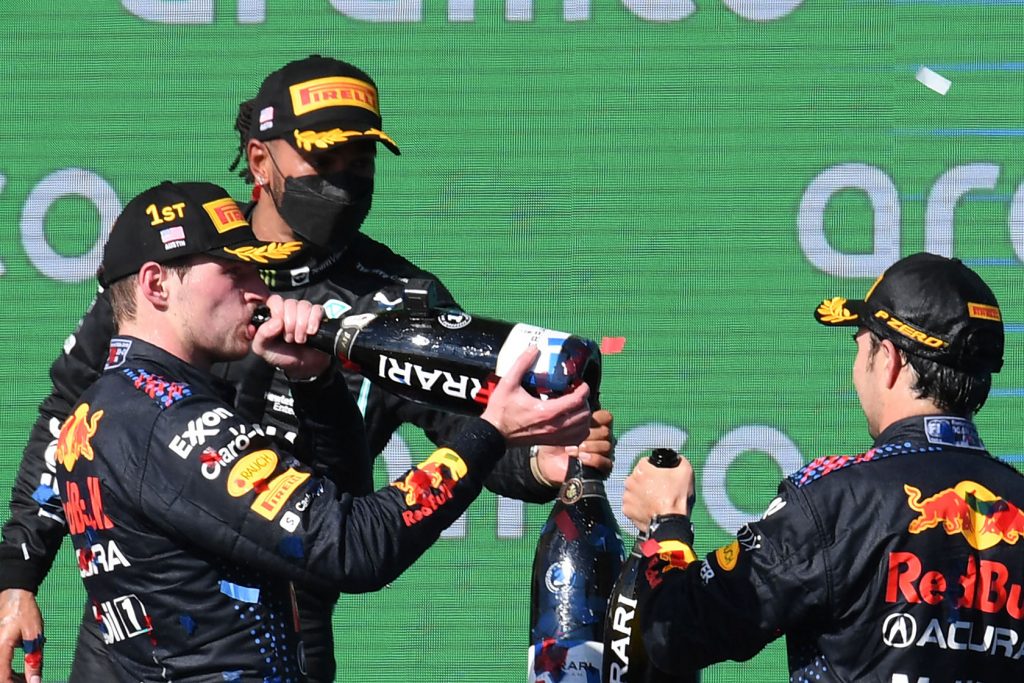 The Official Toast of Formula 1® announces that the initiative kicks off with five signed bottles from the 2021 season, before continuing in 2022
Formula 1® fans are now able to bid on a once-in-a-lifetime piece of racing history, as Ferrari Trento makes five of its signature F1® Podium Jeroboams, from five 2021 Grands Prix, available to the public. This will be through a global auction on F1® Authentics, launching on the 6th of December and closing on the 18th of December.
Signed by the three winning drivers of key races throughout the 2021 season, each of the five bottles is the very same as used in the iconic podium celebration after every race, offering a completely unique and exclusive item.
Each auction will raise money for Keep Fighting, the charity set up to celebrate racing champion Michael Schumacher's indomitable spirit and encourage everyone to 'Never Give Up'. Run by those close to Michael, Ferrari Trento is proud to be supporting such a hugely positive and worthwhile cause that is also close to the hearts of Formula 1® and its drivers.
The five bottles available to bid for are from the following 2021 races:
The Pirelli British Grand Prix at Silverstone, a home victory for Lewis Hamilton, with Charles Leclerc in second and Valtteri Bottas coming in third
The Grand Prix de Monaco, won by Max Verstappen, with Carlos Sainz and Lando Norris rounding out the podium
The Heineken Grande Prémio de Portugal, which was also won by Hamilton, with Verstappen and Bottas in second and third
The Emirates Grand Prix de France, where Verstappen again took first, Hamilton came in second and Sergio Pérez came third
The BWT Großer Preis von Österreich in Austria, another victory for Verstappen, with Bottas in second and Norris in third
The bottles are available to bid for on the F1® Authentics website, the home of legitimate F1® memorabilia. Anyone can bid, granting F1® fans worldwide the chance to possess the truly one-of-a-kind momentos ahead of the final race of the season, the Etihad Airways Abu Dhabi Grand Prix 2021 on the 12th of December. The winner will be announced on the 19th of December, with Ferrari Trento planning to continue the new initiative into the 2022 season.
The striking bottle is a collector's piece in itself, bearing "Ferrari" in large on one side. The wine is a 2015 traditional method Blanc de Blancs, made exclusively from Chardonnay grapes cultivated on the slopes of the mountains of Trentino, in northern Italy following the strict rules of the Trentodoc appellation. Maturation on its lees for over five years has rendered it particularly harmonious, with a lasting finish.
Says Matteo Lunelli, President and CEO of Ferrari Trento: "we are thrilled to take our partnership with Formula 1® to the next level, through an avenue that gives F1 fans closer access to the sport and their favourite drivers, whilst simultaneously supporting a charity whose message of resilience and passion is so in line with our beliefs at Ferrari Trento. We look forward to starting our collaboration with the Keep Fighting Foundation."
Stefano Domenicali, President and CEO, Formula 1®, says: "This season has been one of the most incredible seasons for a long time and we couldn't think of a more fitting way to end it than inviting our fans to own a part of F1 history with this incredible auction. It's fantastic to see Ferrari Trento collaborating with the Keep Fighting Foundation and supporting such an important cause."
Sabine Kehm, Managing Director of Keep Fighting Foundation, says: "Keep Fighting Foundation is immensely grateful to be part of this great activity, enabling fans to own an authentic piece of F1 history and add to a charitable cause at the same time. Keep Fighting Foundation is striving to continue Michael's charitable work together with his unbelievable fans, so this collaboration with Ferrari Trento and our friends from Formula 1 is not only an honour for us but also feels like a natural fit. We are looking forward to a great time with Ferrari Trento with who we share the passion for accepting challenges, and we would like to thank everybody involved."
To find out more about Ferrari Trento, the Official Toast of Formula 1®, visit www.ferraritrento.com/en, to find out more about the Keep Fighting Foundation, visit  www.keepfighting.ms/ and for more details on Formula 1® please visit www.formula1.com/

Ferrari Trento promotes a culture of drinking responsibly which is part of the Italian Art of Living.
It is a culture linked to the ritual nature of food and the celebration of convivial occasions, in which consumption is moderate and informed.
Enter the ferraritrento.com website only if you share this approach and if you are of the legal age to drink alcohol in your country: a world of excellence awaits you!
Access to the site was denied because you are not of legal age to drink alcohol.