Ferrari Trento is the Official Toast of W Series, Starting its 2022 Season this Weekend in Miami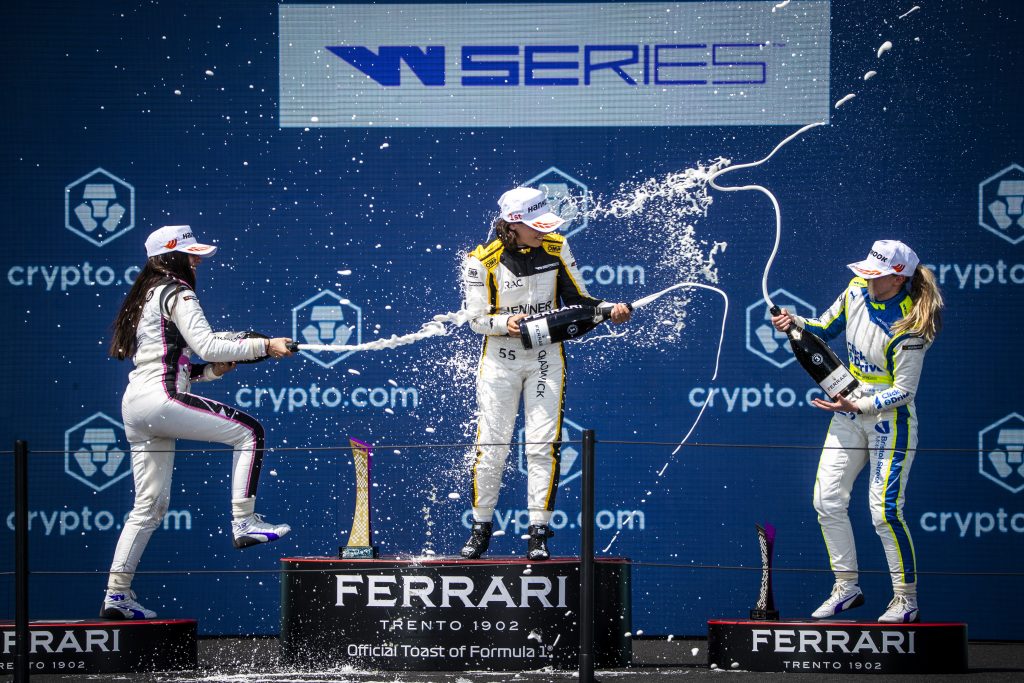 W Series, the international single-seater motor racing championship for women drivers, today announces that Ferrari Trento will continue as its Official Toast during the 2022 season.
W Series' third season begins this weekend in support of the inaugural Formula 1® Crypto.com Miami Grand Prix. The top three drivers in each W Series race will celebrate with Jeroboams of Ferrari Trentodoc on the podium, while W Series guests will raise their own toasts throughout the hospitality areas.
The double-header kick-starts W Series' record 2022 season, which includes ten F1 support races at eight grand prix weekends in three continents – the most races that W Series has ever staged in a single season. Ferrari Trento is a partner of both W Series and Formula 1 globally, including the Grand Prix this weekend in Miami.
Camilla Lunelli, Director of Communications for Gruppo Lunelli, commented "Female leadership and empowerment are of growing importance for Ferrari Trento and the other companies of our group. We advocate for them and support them in sport and in other sectors, as well. Throughout our history, female and male champions have chosen to celebrate their victories with Ferrari Trento. It is a point of pride and an honor for us to support W Series and the pursuit of excellence by its athletes."
Catherine Bond Muir (Chief Executive Officer, W Series) said: "W Series has even more to celebrate in 2022, which will be a record year as we stage more races in a single season than ever before, including five races in the Americas and a first race in Asia in support of the Japanese Grand Prix. There is no better way to toast our continued expansion than with a glass of Ferrari Trento. I am delighted that an existing F1 partner will continue to support W Series' mission, and I look forward to toasting our drivers' successes this year."
A family-owned winery based in Trentino, in the Italian Alps, Ferrari Trento is a global leader in its field. Crafting its luxury Trentodoc sparkling wines for over a century, it has become Italy's most-awarded sparkling wine and best-recognized wine brand (source: Wine Intelligence). Ferrari is today recognized globally as an emblem of the "Italian Art of Living."  With its natural elegance, Ferrari – among the most glittering manifestations of that art of living which is so very Italian – is the celebratory toast of choice for leading figures in sports, the arts and culture.

Ferrari Trento promotes a culture of drinking responsibly which is part of the Italian Art of Living.
It is a culture linked to the ritual nature of food and the celebration of convivial occasions, in which consumption is moderate and informed.
Enter the ferraritrento.com website only if you share this approach and if you are of the legal age to drink alcohol in your country: a world of excellence awaits you!
Access to the site was denied because you are not of legal age to drink alcohol.