Celebratory special edition: a Wine Bag in partnership with Poltrona Frau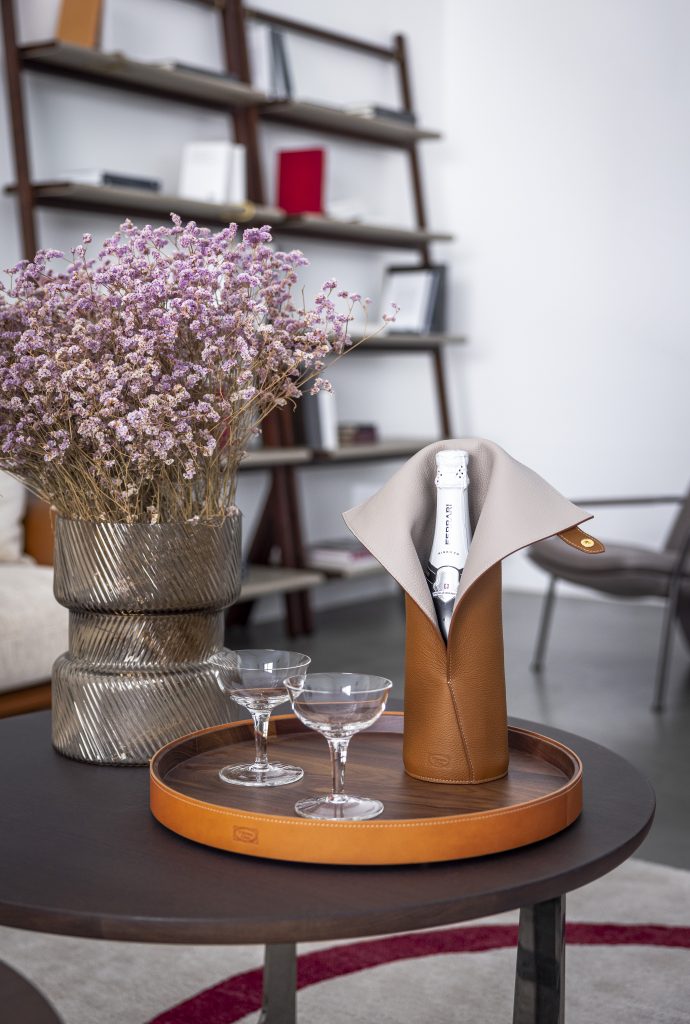 New initiatives are coming on stream to celebrate the important anniversary of 110 years of Poltrona Frau: to be precise, "100+10 Years of True Evolution", as the logo created for the occasion recites, thus expressing Poltrona Frau's course of authentic growth resulting from the company's cultural and manufacturing heritage, its project-rich present, and its vision of a future with sustainability at its core.
For its 100+10 years, the company is releasing an elegant Wine Bag, created to hold a limited series of bottles of Ferrari Trentodoc sparkling wine.
THE WINE BAG IN PARTNERSHIP WITH FERRARI TRENTO
A bottle bag covered entirely in Pelle Frau® leather, to enhance a rare wine: a limited edition of Ferrari Perlé Bianco Riserva  for Poltrona Frau dedicated to this significant anniversary, embellished with a label bearing the Poltrona Frau "100+10 Years of True Evolution" logo and packaging created for the occasion.
This initiative also confirms the profitable collaboration of Poltrona Frau with Ferrari Trento, the benchmark for excellence in Italian sparkling wine, which is itself celebrating a significant anniversary this year: 120 years of history. Poltrona Frau's partnership with the Trento-based producer is a consolidated one, expressed in a common vision of premium "Made in Italy" products and in a tradition of artisanal expertise.
The refined Wine Bag has been created in order to offer a container that is designed to be kept, made from exclusive materials: an article of design that incorporates all the manufacturing skills and timeless elegance of Poltrona Frau's products. It is a sack with a rigid structure and a single compartment for containing and transporting bottles in an easy and safe manner. The external covering is in Pelle Frau®,  entirely crafted by hand and with meticulous stitching in evidence. The interior is lined to reduce vibration and provide maximum protection for the glass of the bottle. A practical handle, also in Pelle Frau®, offers a comfortable and reliable grip.
The Wine Bag will be available from Poltrona Frau's e-commerce site from 2023: a gift idea that allows you to enjoy wine wherever you are, and also becomes an original decorative element for your home.

Ferrari Trento promotes a culture of drinking responsibly which is part of the Italian Art of Living.
It is a culture linked to the ritual nature of food and the celebration of convivial occasions, in which consumption is moderate and informed.
Enter the ferraritrento.com website only if you share this approach and if you are of the legal age to drink alcohol in your country: a world of excellence awaits you!
Access to the site was denied because you are not of legal age to drink alcohol.