Ferrari Trento returns as Official Sparkling Wine of 69th Emmy® Awards Season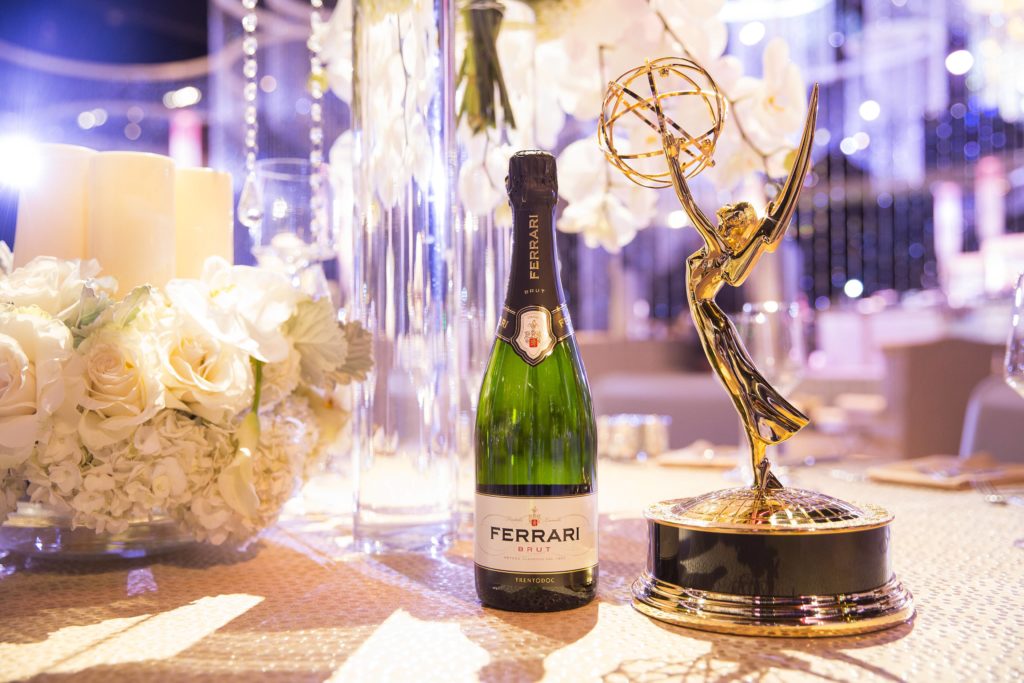 Italy's most awarded bubbles proudly announces its return as the Official Sparkling Wine of Emmy® Awards season for the third consecutive year. Ferrari Trento flies to Los Angeles along with its touch of Italian style in all the highlights of the most important television event worldwide.
On Sunday, September 17, an exclusive shortlist of guests departing the ceremony and entering the Governors Ball will kick off the celebration as they enjoy flutes of prestige label Ferrari Brut NV Trentodoc. Ferrari will also be served at both Creative Arts Governors Ball events on Saturday, September 9 and Sunday, September 10.
Golden Grandeur, the theme for this year's Governors Balls, celebrates a confluence of elegance and sustainability. The designed scenery boasts in fact precious golden components, and all décor and food elements for this event are
either recyclable, repurposed or bio-degradable.
Ferrari Trento, whose vineyards have all been awarded organic certification in 2017, is a superlative match to this theme; its natural elegance and connection to the Dolomites and the Trentino region of northern Italy represent a deep respect for sustainable mountain viticulture and the allure of the Italian Art of Living.
"We are proud to celebrate these nominees and their accomplishments," noted Matteo Lunelli, President and CEO of Ferrari Trento. "This is a golden age, both of television and of sparkling wine. We are delighted to share in the Academy's conviction that elegance and sustainability are compatible."

A beloved sparkling wine in Italy since 1902, Ferrari Trento is no stranger to Hollywood and to international events. It has been poured for luminaries at the Oscars, the Venice and Tribeca Film Festivals, the Prada MET Costume
Institute Gala and the Rio 2016 Summer Olympics.

Ferrari Trento promotes a culture of drinking responsibly which is part of the Italian Art of Living.
It is a culture linked to the ritual nature of food and the celebration of convivial occasions, in which consumption is moderate and informed.
Enter the ferraritrento.com website only if you share this approach and if you are of the legal age to drink alcohol in your country: a world of excellence awaits you!
Access to the site was denied because you are not of legal age to drink alcohol.