Ferrari Trento at Vinitaly 9th – 12th April 2017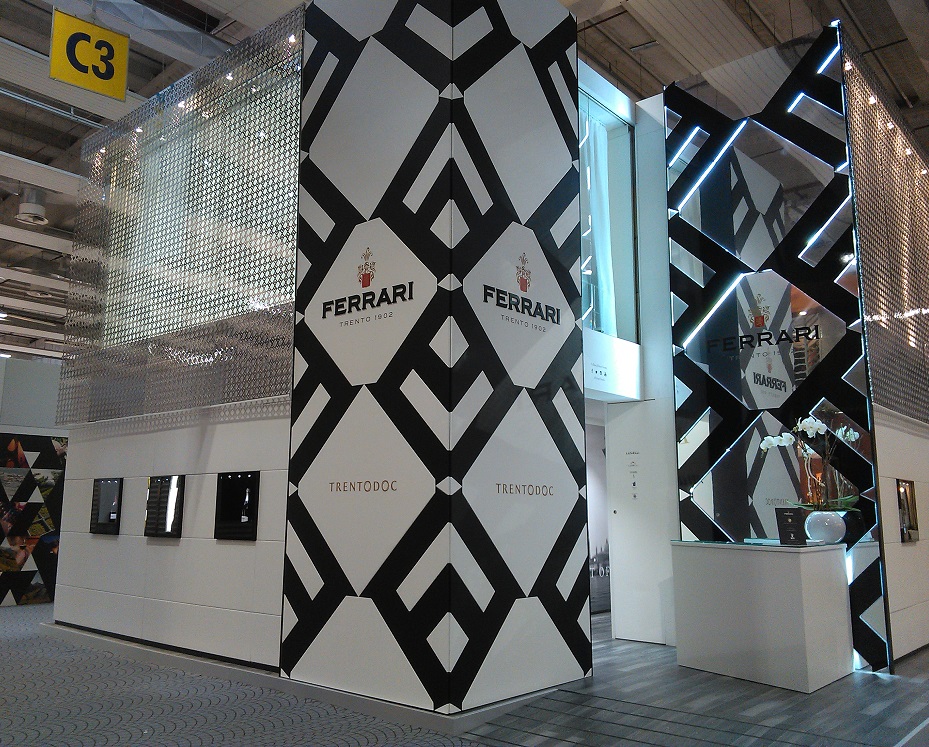 In a few days, the 51st edition of Vinitaly will open its doors and, for yet another year, Lunelli Group will take part in the exhibition with all its products at the Ferrari Trento stand located in the Pavillion no. 3 and the Stand C3. Furthermore, Surgiva – also owned by Lunelli – will be the official mineral water supplier of Vinitaly for the third year in a row.
The exhibition will see Ferrari Trento taking on the leading role in several events.
The first one is scheduled on the eve of the official opening of Vinitaly, on Saturday April 8, when the 100 best Italian wine producers selected by Wine Spectator will be presented at the traditional event Opera Wine, held at Palazzo della Gran Guardia. The colours of Ferrari Trento will be defended by Trentodoc Perlé 2009, with Surgiva playing a crucial role during the tasting session as official mineral water supplier of the event.
On Sunday, April 9, Gambero Rosso will organise for the fifth year in a row in partnership with Vinitaly a great tasting session featuring the 429 wines that received Three Glasses in the 2017 edition of the Vini d'Italia guide, where Ferrari Trento is proudly represented by Giulio Ferrari Riserva 2005. The event is scheduled at 11:30 in the "Sala Argento", located at the floor – 1 in Palaexpo, near the A2 entrance.
Then, on Monday, April 10, Marcello Lunelli – vice President of Ferrari Trento and Technical Manager of the Lunelli Group – will introduce the audience to Ferrari Riserva Lunelli 2008 during the tasting session called Tasting Ex-press: a celebration of Sparkling Wines: Champagne, Trentodoc, Franciacorta, organised by Michele Shah in partnership with Decanter.
On the same day, in the afternoon, Marcello Lunelli will also share the experience of Lunelli Group at the conference entitled "The success story of organic wine in Europe and the World", scheduled at 15:00 in the "Sala Puccini" room. This event will provide the perfect opportunity to talk about the organic certification awarded to Ferrari's vineyards only few days ago, a document that attests the organic management of all vineyards belonging to the Lunelli Family.
Looking forward to seeing you in Verona!

Ferrari Trento promotes a culture of drinking responsibly which is part of the Italian Art of Living.
It is a culture linked to the ritual nature of food and the celebration of convivial occasions, in which consumption is moderate and informed.
Enter the ferraritrento.com website only if you share this approach and if you are of the legal age to drink alcohol in your country: a world of excellence awaits you!
Access to the site was denied because you are not of legal age to drink alcohol.