Ferrari Trentodoc is the official Bubble at Internazionali BNL d'Italia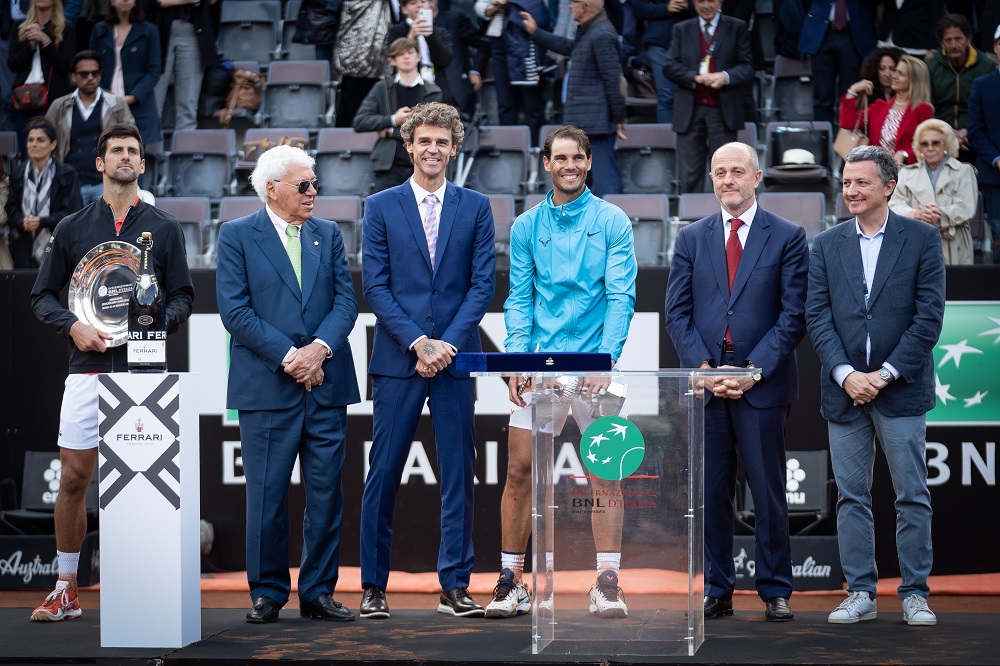 Last Sunday was fantastic with great sport events and people celebrated with Ferrari both Juventus championship and the winners of Internazionali Bnl d'Italia 2019 in Rome.
Internazionali BNL d'Italia have exhibited more than ten days of great tennis and high society at Foro Italico, where Ferrari bubbles welcomed guests of Corporate Lounge and LEA area along the whole the competition.
During the award ceremony on Sunday 19th May, Jeroboams Ferrari Trentodoc have stood out on customized columns beside athletes, who have received them together with their medals.
Rafael Nadal defeated Novak Djokovic in three sets during the final competition in Rome with a match point of 6-0 4-6 6-1, and he won his ninth title at Foro Italico.  He wins a wonderful victory opening Jeroboam Ferrari Trentodoc directly in the tennis field, surrounded by his team and the organisers of the prestigious competition.
Ferrari proves once again to be the toast for excellence of the great Italian and international sport events, giving joyful moments, which will be imprinted in the memory of supporters and enthusiasts for long time.

Ferrari Trento promotes a culture of drinking responsibly which is part of the Italian Art of Living.
It is a culture linked to the ritual nature of food and the celebration of convivial occasions, in which consumption is moderate and informed.
Enter the ferraritrento.com website only if you share this approach and if you are of the legal age to drink alcohol in your country: a world of excellence awaits you!
Access to the site was denied because you are not of legal age to drink alcohol.