Jet?s thirty years celebrated in Japan with a Ferrari toast and the honouring of Thierry Cohen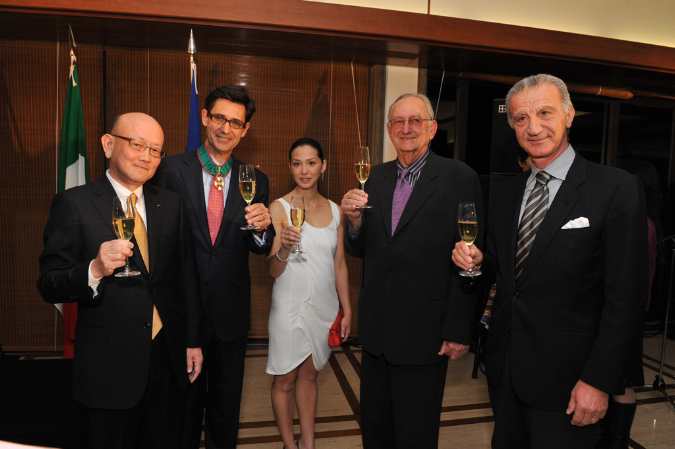 If Ferrari's sparkling wine has become a success story in Japan, served by the finest establishments, a good part of the merit goes to Jet (Japan Europe Trading), the company that includes Ferrari among the famous names it imports into Japan. The fact that Jet, headed by the Cohen family (picture aside), is well-deserving of its status as an Italian food-and-wine connoisseur is demonstrated by the fact that its thirtieth anniversary was celebrated with a huge party at the Italian embassy in Japan. A celebration that was also a cultural exchange between Italy and Japan, showcasing the best of the two countries in terms of cuisine, music, etc. There were at least 300 people attending, including authorities, restaurateurs, journalists and wine-makers, all toasting with Ferrari, of course. And at the end, almost a tradition at the thirtieth anniversary of Jet, a surprised Thierry Cohen was honoured for his work in the promotion of Italian food and wine products, and was awarded the title of "commendatore". Our congratulations go out to Thierry and to the entire extraordinary team at JET!

Ferrari Trento promotes a culture of drinking responsibly which is part of the Italian Art of Living.
It is a culture linked to the ritual nature of food and the celebration of convivial occasions, in which consumption is moderate and informed.
Enter the ferraritrento.com website only if you share this approach and if you are of the legal age to drink alcohol in your country: a world of excellence awaits you!
Access to the site was denied because you are not of legal age to drink alcohol.