It is curious how a dish that today is much sought after and versatile, a sumptuous expression of the "Mare Nostrum", was originally created from the recovery of the small fish that remained unsold at the market.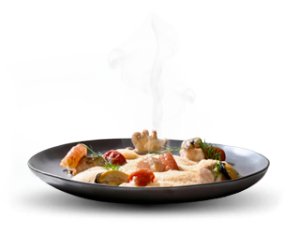 Makes 4 servings:
600 g rock fish
200 g mussels
200 g prawns
500 g angler fish
800 g turbot
200 g cuttlefish
150 g cherry tomatoes
2 cloves of garlic
1 small onion
1 stalk of celery
1 small carrot
1 dl Chardonnay wine
1 Sprig of marjoram
60 g Extra-virgin olive oil
Assembly:
Clean and filet all the fish taking care to keep the bones and the shells of the crustaceans. With these make a broth by cutting and cubing the vegetables and cutting the bones into small pieces.
In a pot fry the vegetables, the marjoram and the fish bones. Add the cherry tomatoes and let cook with the wine, and then cover barely the all with water. Bring to a boil then simmer until about 40 minutes. Filter the broth making sure to squeeze well to add all the flavor of the fish to the liquid.
Replace on the fire and began to reduce until the desired flavor is achieved.
Cut the filet of fish into pieces approximately 40g and lightly cook in the fish stock.
Divide the fish on the plates and finish by pouring the soup.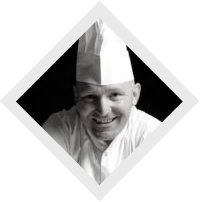 "If you would like to make the dish more Provencal you can add saffron to the fish soup giving a dish more aromatic!"
Alfio Ghezzi
Chef Ferrari