Octopus and potatoes with taggiasca olives and pesto
This is a recipe that encapsulates nicely the contrasts of a Region – Liguria – that overlooks the sea but is hemmed in by rugged mountains. This conflicting situation provides a wealth of resources, all of which we find here; from extra virgin olive oil to vegetables, and from aromatic herbs to seafood.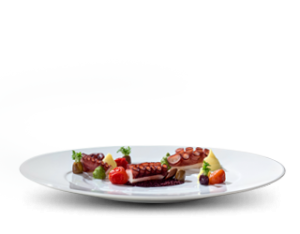 Makes 4 servings:
1 kg octopus
300 g potatoes
50 g taggiasca olives
200 g cooked cherry tomatoes
80 g extra virgin olive oil
2 cloves of red garlic
2 twig of thyme
For the pesto:
40g pine nuts
75g olive oil
Blend the pine nuts with the olive oil.
65g basil
10g pecorino cheese
30g parmesan cheese
25g extra virgin olive oil
Blend all the ingredients adding the mixture of oil and pine nuts, add salt to taste and store in the fridge under oil.
Assembly:
Steam the potatoes until they are cooked, steam also the octopus for about one hour and a half then cut into pieces and sauté them in a pan with extra virgin olive oil until they are golden brown.
Place the cherry tomatoes in boiling water for 15 minutes then place immediately in ice water and remove the peels. Place them on a baking tray, dress them with salt and pepper, extra virgin olive oil, thyme and garlic and place them in an oven at 120 degrees Celsius for about 70 minutes.
Divide the potatoes in four plates with the octopus and finally add the olives and tomatoes.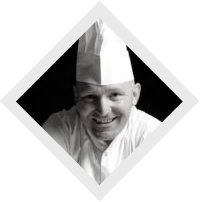 "Steam the octopus and you will obtain a soft consistency maintaining great taste."
Alfio Ghezzi
Chef Ferrari