Still more sparkling with Ferrari: Venice Carnival at the Bauer Hotel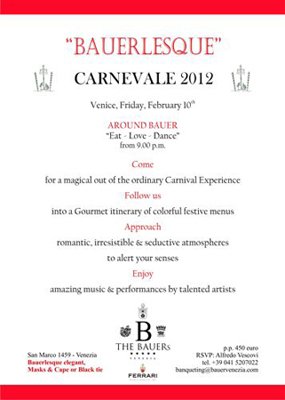 Last year the Bauerlesque, which is the costume party at the Bauer Hotel in Venice and one of the best examples of the great hotel hospitality, was a tremendous success. That's why, this year it will be replicated and this time there will be Ferrari sparkling wine. The Bauerlesque is not just a costume party to celebrate Carnival but it is also a culinary experience with a renaissance style buffet and accompanying acrobats, contortionists, music, dances and, especially, Ferrari sparkling wine. The long awaited and internationaly attended event will be held on Friday evening, February 10 at 9 p.m..
 
Subscribe now to our newsletter
Apply for our newsletter and be the first to find out what's new in the world of Ferrari's exclusive sparkling wines.