Still more sparkling with Ferrari: Venice Carnival at the Bauer Hotel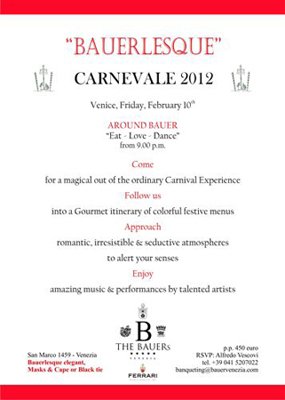 Last year the Bauerlesque, which is the costume party at the Bauer Hotel in Venice and one of the best examples of the great hotel hospitality, was a tremendous success. That's why, this year it will be replicated and this time there will be Ferrari sparkling wine. The Bauerlesque is not just a costume party to celebrate Carnival but it is also a culinary experience with a renaissance style buffet and accompanying acrobats, contortionists, music, dances and, especially, Ferrari sparkling wine. The long awaited and internationaly attended event will be held on Friday evening, February 10 at 9 p.m..
 

Ferrari Trento promotes a culture of drinking responsibly which is part of the Italian Art of Living.
It is a culture linked to the ritual nature of food and the celebration of convivial occasions, in which consumption is moderate and informed.
Enter the ferraritrento.com website only if you share this approach and if you are of the legal age to drink alcohol in your country: a world of excellence awaits you!
Access to the site was denied because you are not of legal age to drink alcohol.