Bocuse d'Or Italy: Alfio Ghezzi wins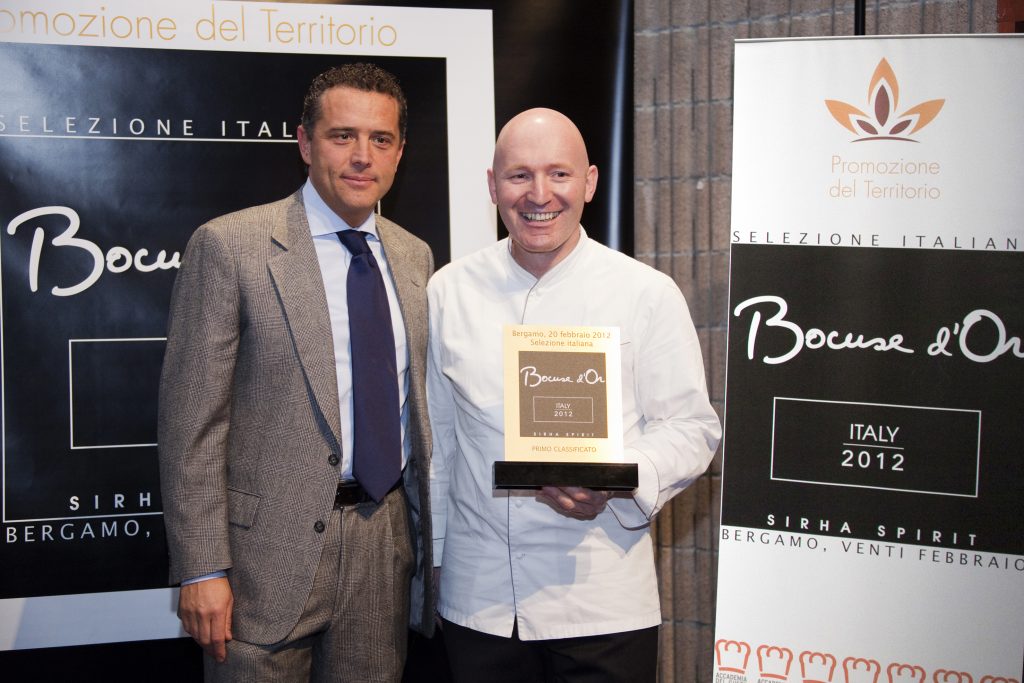 Bergamo, 21 February 2012 Alfio Ghezzi is the winner of the Italian contest of the Bocuse d'Or. Yesterday the Trentino chef competed at the Accademia del Gusto (Academy of Taste) and today has been proclaimed the Italian cuisine standard bearer for the European trials of this prestigious competition.
Alfio Ghezzi arrived  in Trento in 2010 at Locanda Margon, the Ferrari Winery's restaurant, which gained its first Michelin star in 2001.
Born in 1970, Alfio Ghezzi has a Chef Diploma and studies in hospitality management, he was commis chef (chef assistant) and chef de partie (station chef) in prestigious hotels at well-known Italian locations. After several years dedicated to teaching, he returned to his original vocation of cooking.  He had the opportunity to learn this art from two great masters, Gualtiero Marchesi and Andrea Berton. With the first, he worked at the Hosteria dell'Orso in Rome and at the Casinò Les Princes in Cannes, with the second he was his sous-chef at Trussardi alla Scala in Milano.
The two dishes presented were: truffled Bresse chicken as the meat dish, liver parfait hazelnuts and carnelian cherries, ravioli with ricotta cheese, fava beans and a small finanziera "like a potato flavored with lemon, crunchy outside and soft inside" and for the fish dish steamed sole and Hollandaise sauce of trout eggs, gray shrimp, daikon, smoked eggplant and powder rosemary oil, artichokes and sole wings with soy and horseradish, sea salt liver, cockscomb, carrot and passion fruit.
"This win is very gratifying and I thank everyone who helped me to achieve it starting with my staff – declared the winner just after the proclamation – "Now I expect a tough month of preparation which means more time devoted to training and therefore more work to be entrusted to my staff  in the kitchen. My desire is to get as far as possible in the European ranking. I am motivated and ambitious and I hope to be able to satisfy everyone. "
The European competition takes place in Brussels on March 21, where the Italian winner will compete with the best European chefs.
"We hope to achieve a good ranking – says Giancarlo Perbellini, President of the competition and chef of the Perbellini restaurant in Isola Rizza in Verona -. The possibilities are there. Now we have a tough month of training, but he will be assisted by a good team. The seven chefs, who participated in the jury, are offering their assistance and each will help to concoct the garnishes of the dishes, in order to help Ghezzi arrive well prepared in Brussels. "
A team involving the best Italian chefs, in addition to Perbellini there are Enrico Cerea (President of Jury, Da Vittorio Restaurant  – Bergamo – 3 Michelin stars), Andrea Berton (Trussardi alla Scala Restaurant – Milan – 2 Michelin stars), Alessandro Breda (Gellius Restaurant – Oderzo  TV – 1 Michelin star), Davide Oldani (d'O Restaurant – Cornaredo MI – 1 Michelin star), Antonella Ricci (Al Fornello da Ricci Restaurant – Ceglie Messapica BR – 1 Michelin star) and Giovanni Santini ( Dal Pescatore Restaurant – Runate, Canneto sull'Oglio MN – 3 Michelin stars).

Ferrari Trento promotes a culture of drinking responsibly which is part of the Italian Art of Living.
It is a culture linked to the ritual nature of food and the celebration of convivial occasions, in which consumption is moderate and informed.
Enter the ferraritrento.com website only if you share this approach and if you are of the legal age to drink alcohol in your country: a world of excellence awaits you!
Access to the site was denied because you are not of legal age to drink alcohol.