The Foreign Press Association in Italy celebrates its centennial with an exhibition and with Ferrari toasts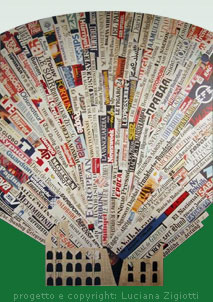 The Foreign Press Association in Italy, which has its headquarters in Rome, celebrates its centennial anniversary with a major exhibition that encapsulates a century of Italian history and will be inaugurated with toasts of Ferrari. Consisting of more than 500 members, the Association has gathered together the signatures of the most important newspapers, magazines, radio and television networks from all over the world. The Association has decided to remember its 100 years  with an exhibition whose title does not need particular explanation, "Italy seen by the world," and which is composed of a fascinating sequence of photographs and documents. Held in the Ara Pacis Museum, the exhibition, which will run until Thursday, 4 October, will be inaugurated by the Mayor of Rome, Gianni Alemanno, Wednesday, 12 September. After the ribbon-cutting ceremony there will be toasts with magnum bottles of Ferrari Brut and inside the location there will also be a Ferrari table. On 28 September as part of the planned activities for the celebration of the centennial is expected a conference dedicated to the food industry, titled EATING WELL IS NOT ENOUGH – ITALIAN FOOD INDUSTRY: BETWEEN EXPORT AND LIFESTYLE, to be attended by the Minister of Agriculture Mario Catania, the President of the Agriculture Committee of the European Parliament Paolo De Castro and the Director of Communications and Public Relationships of Cantine Ferrari, Camilla Lunelli.

Ferrari Trento promotes a culture of drinking responsibly which is part of the Italian Art of Living.
It is a culture linked to the ritual nature of food and the celebration of convivial occasions, in which consumption is moderate and informed.
Enter the ferraritrento.com website only if you share this approach and if you are of the legal age to drink alcohol in your country: a world of excellence awaits you!
Access to the site was denied because you are not of legal age to drink alcohol.