The Grape Harvest of Via Montenapoleone with Ferrari and the red wines of the Estate Castelbuono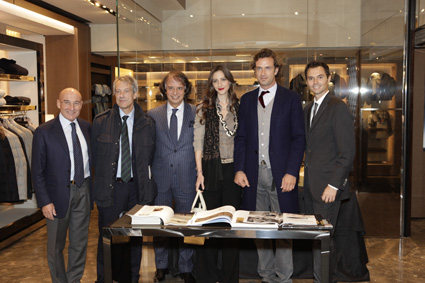 It is called "grape harvest" because of the season but in reality the event that will start Thursday night until Saturday in the famous brand boutiques of Montenapoleone (and the nearby Sant'Andrea and Verri streets) will be an illustrious tasting of the best labels. Ferrari can not miss, including the two great red wines from the Estate Castelbuono, Sagrantino and Rosso di Montefalco. This event, which has already become a tradition,  will start the afternoon of Thursday, October 11th  and during the evening all the luxury shops of Montenapoleone and the other streets will be open. Grape harvest means there will be toasting everywhere. Glasses of Ferrari, served in magnum bottles, will be raised in the glittering Versace boutique, while in the Corneliani shop one will toast with the red wines from the Estate Castelbuono (as you can see in last year's picture). Ferrari, during the event, will play the leading role of the harvest  thanks to an historic club, Cova. At Cova, for the occasion, an entire showcase will be dedicated to the Trentino sparkling wine, while the bar will offer Ferrari Maximum Brut and Ferrari Perlé.

Ferrari Trento promotes a culture of drinking responsibly which is part of the Italian Art of Living.
It is a culture linked to the ritual nature of food and the celebration of convivial occasions, in which consumption is moderate and informed.
Enter the ferraritrento.com website only if you share this approach and if you are of the legal age to drink alcohol in your country: a world of excellence awaits you!
Access to the site was denied because you are not of legal age to drink alcohol.