Ferrari Trento for Missoni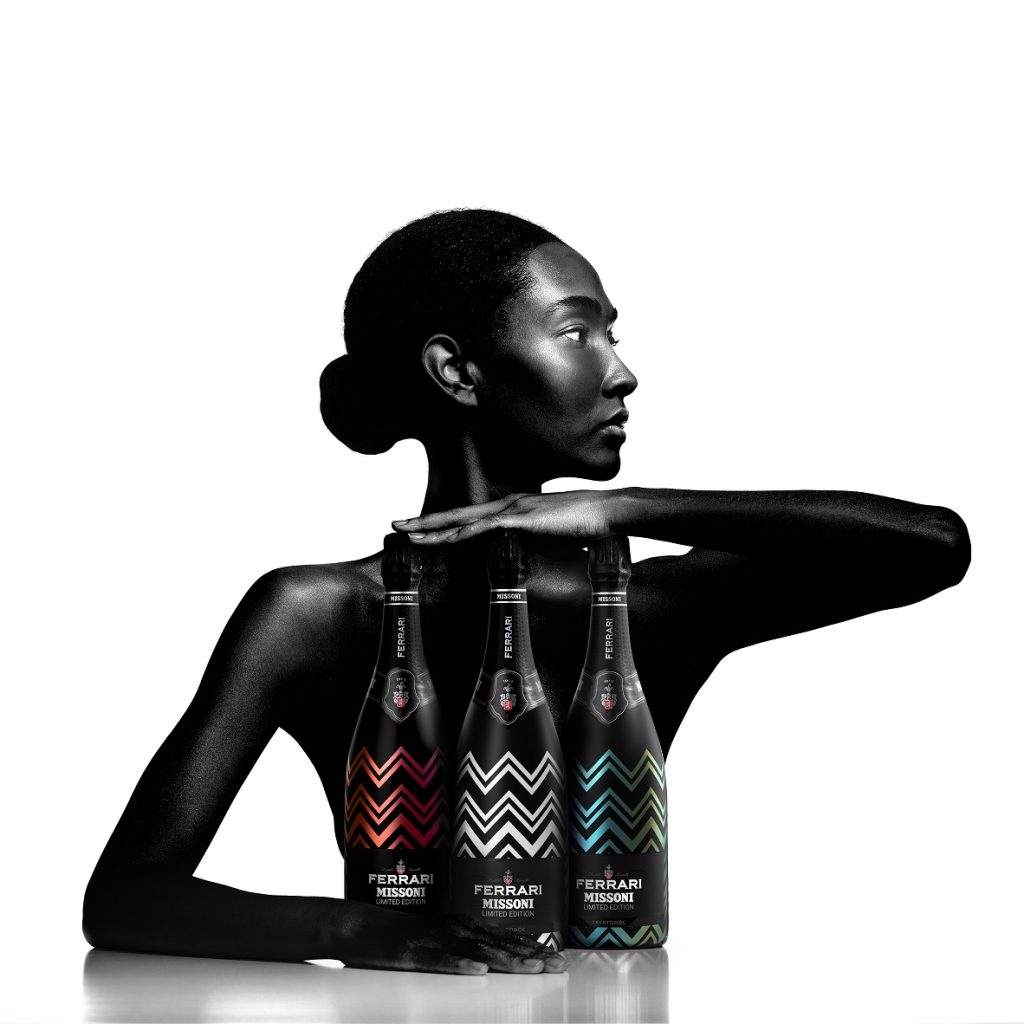 A Limited Edition for collectors, resulting from the partnership between two brands that symbolize Italian excellence
Missoni and Ferrari Trento are delighted to present a special selection of Ferrari Trentodoc. The bottles are embellished with the iconic pattern of the historic luxury brand that has its base in Sumirago and is celebrated all over the world for its unique designs and fabrics, just as the art of winemaking that has always lain behind the outstanding creations of the Lunelli family enjoys similar fame.
This collaboration has given rise to a limited edition of great character, a bottle with an opaque black background and Missoni's iconic zig-zag motif in three colour variations.
This elegant and refined packaging contains a single-vintage Trentodoc Blanc de Blancs, created from specially selected, 100% Chardonnay grapes cultivated using sustainable methods at the foot of the mountains of Trentino; it displays, with intensity, all the fruit and strength of the 2018 vintage. This sparkler is characterised by finesse, precision and harmony, and has been conceived to act as an ambassador for the Italian style and elegance that these two brands represent around the world.
Available from the best retail outlets in Italy and abroad, as well as the principal E-commerce platforms – including the new Enoteca Lunelli – the Ferrari Missoni Limited Edition is the perfect idea for celebrating in style those special moments that you wish to share, ideally with Italy's toasting wine par excellence.
"We are delighted to announce this partnership. The concepts of Beautiful, Good and Well-Made are the lynchpins of Italy's outstanding products: this is the very essence of the new collaboration between Ferrari Trento and Missoni. We are united by a friendship that goes back a very long way, a profound connection with the history and tradition of our country, and the desire to be ambassadors for the Italian way of life" comments Matteo Lunelli, President & CEO of Ferrari Trento.
Trento, 16th December 2022

Ferrari Trento promotes a culture of drinking responsibly which is part of the Italian Art of Living.
It is a culture linked to the ritual nature of food and the celebration of convivial occasions, in which consumption is moderate and informed.
Enter the ferraritrento.com website only if you share this approach and if you are of the legal age to drink alcohol in your country: a world of excellence awaits you!
Access to the site was denied because you are not of legal age to drink alcohol.