Ferrari Trento toast at the Fédération Internationale de l'Automobile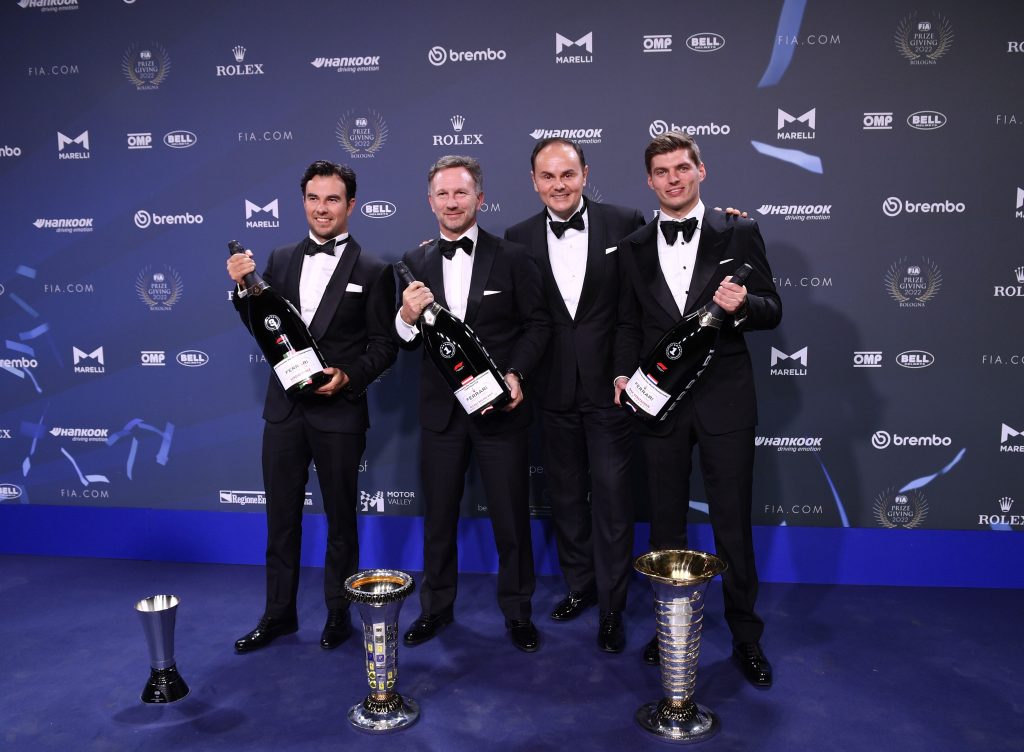 Special celebratory Mathusalem format bottles
were presented to Verstappen, Leclerc, Pérez and Red Bull
Ferrari Trento and Tenute Lunelli were the protagonists of the FIA (Fédération Internationale de l'Automobile) Prize Giving, the award ceremony for motorsport champions at the end of the season that saw them compete on circuits around the world.
Taking the stage for Formula 1® was world champion Max Verstappen, together with Charles Leclerc and Sergio Pérez, who finished second and third respectively in the 2021/2022 season, along with Christian Horner, Team Principal of Oracle Red Bull Racing, the constructor's world champion.
The event, promoted by the FIA in cooperation with the Emilia-Romagna Region, ICE (Agency for the promotion abroad and internationalisation of Italian companies) and ACI (Automobile Club Italia), is a much-awaited appointment where the champions of all FIA motor sports are celebrated.
After the Paris leg in 2021, the event this year took place in Bologna and attracted the entire world of Formula 1® as well as other disciplines related to the world of cars.
In addition to the Trentodoc sparkling wines, the gala dinner was accompanied by Tenute Lunelli's Teuto Costa Toscana 2018, an exceptional blend of Sangiovese, Merlot and Cabernet Sauvignon, recently awarded the prestigious Tre Bicchieri prize by Gambero Rosso.
Presenting the three drivers and Christian Horner with the special bottles, each personalised and in Mathusalem format (6 litres), was Matteo Lunelli, President and CEO of Ferrari Trento, who commented: "It was a pleasure and an honour to reward amazing champions at the end of a season of great emotions, all celebrated with a Ferrari Trentodoc toast."

Ferrari Trento promotes a culture of drinking responsibly which is part of the Italian Art of Living.
It is a culture linked to the ritual nature of food and the celebration of convivial occasions, in which consumption is moderate and informed.
Enter the ferraritrento.com website only if you share this approach and if you are of the legal age to drink alcohol in your country: a world of excellence awaits you!
Access to the site was denied because you are not of legal age to drink alcohol.