Ferrari Trento presents the second edition of "Inverno Trentodoc"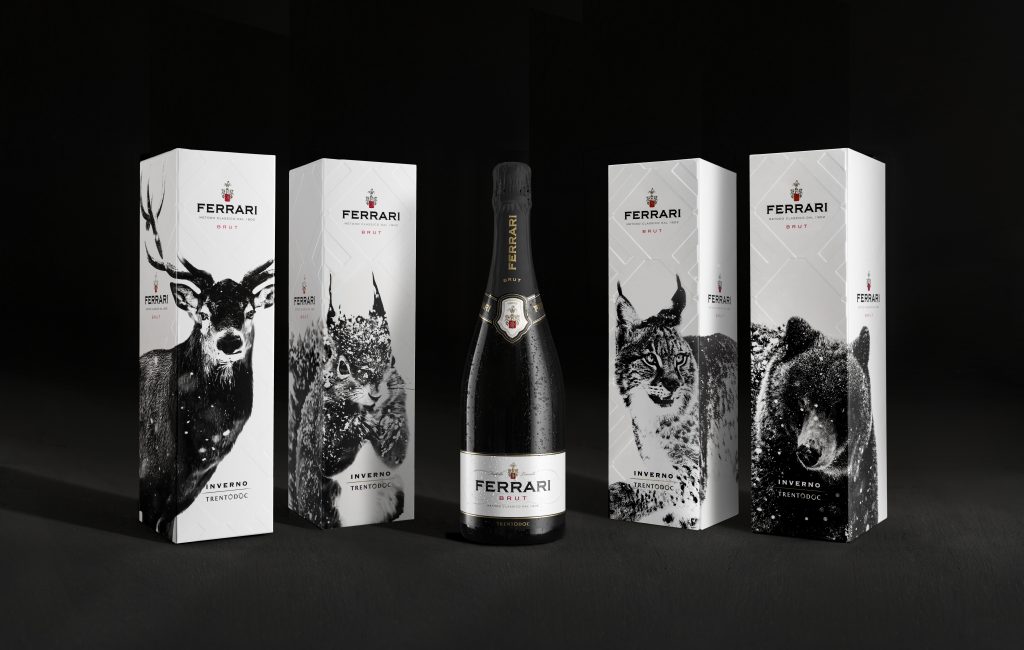 Returning for the second year, "Inverno Trentodoc" is the special edition that Ferrari Trento has created to celebrate wintertime and at the same time pay tribute to its region and the majestic mountains that surround and protect the company's vineyards.
This packaging, designed by Studio Robilant Associati, is dedicated to Ferrari Brut. The black and white colour scheme that is one of Ferrari's distinctive traits is used to reproduce two of the iconic animals of these mountains: a squirrel and a lynx, which add themselves in this new edition to the bear and the stag that were already present last year.
In an enchanted winter scene, a blanket of snow acts as a backdrop to the portraits of proud wild animals that live undisturbed in the countryside and form part of the ecosystem with which Ferrari Trento has always had an intimate rapport, and which it is committed to respecting through the use of sustainable viticultural methods.
Indeed, it is the mountains – as Giulio Ferrari was the first to realize 120 years ago – that guarantee the unique qualities of the Trentodoc sparkling wines, their elegance and complexity, by protecting the vineyards, but also by ensuring a good thermal excursion between day and night, fundamental for creating perfect acidity and aromatic compounds in the grapes.
With these captivating portraits, Ferrari succeeds in communicating its values in a contemporary and attractive way, whilst distancing itself from the classic clichés of Christmas packaging and offering a line that is eminently collectable.

Ferrari Trento promotes a culture of drinking responsibly which is part of the Italian Art of Living.
It is a culture linked to the ritual nature of food and the celebration of convivial occasions, in which consumption is moderate and informed.
Enter the ferraritrento.com website only if you share this approach and if you are of the legal age to drink alcohol in your country: a world of excellence awaits you!
Access to the site was denied because you are not of legal age to drink alcohol.