A triumph of Ferrari bubbles, Lunelli wines and wines from Tenuta Castelbuono at the "Vendemmia 2011"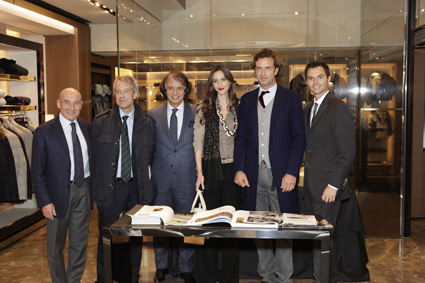 At Prada. At Versace. At Corneliani. The "Vendemmia 2011" [2011 Harvest], the evening dedicated to wine in the most exclusive streets in Milan, Monte Napoleone, has been transformed into an extraordinary parade of Ferrari bubbles, and Trentino and Umbrian red and white wines made by Lunelli.
Let's start properly. "Vendemmia 2011" in Monte Napoleone, which has now reached its second edition, is a celebration, with thousands and thousands of toasts, of the great labels which takes place in the sanctuaries of haute couture whose windows line a street which has entered legend and represents approximately 25% of tourism shopping in Milan. And among the great labels, Ferrari bubbles were the protagonists, presented as they were in the Prada Woman and Prada Man boutiques, accompanied by hors d'oeuvre created by Cracco. The Villa Margon and Maso Montalto were presented at Versace, with an outstanding sommelier in Ferrari's vice chairman, Marcello Lunelli. While in Corneliani, the Montefalco Sagrantino from the Tenuta Castelbuono was served and Alessando Lunelli was also there to illustrate its greatness.

Ferrari Trento promotes a culture of drinking responsibly which is part of the Italian Art of Living.
It is a culture linked to the ritual nature of food and the celebration of convivial occasions, in which consumption is moderate and informed.
Enter the ferraritrento.com website only if you share this approach and if you are of the legal age to drink alcohol in your country: a world of excellence awaits you!
Access to the site was denied because you are not of legal age to drink alcohol.