Ten years on the yeasts gives the Giulio Ferrari sufficient complexity of flavour to ennoble this traditional dish: the fine perlage contrasts with the fattiness, while the character of the sparkling wine is a splendid foil for the anchovies.
Origin and pairings
Mozzarella in carrozza is a typical dish from the culinary tradition of the Italian region of Campania, where it is appreciated as a delicious appetizer and easy to prepare with just a handful of ingredients. Mozzarella in carrozza dates from the 19th century, when it was invented as a way of reusing ingredients that were past their best, bread in particular. To make the perfect mozzarella in carrozza recipe, you need homemade or sandwich bread, mozzarella (usually buffalo), flour, eggs, milk, abundant oil for frying, and anchovies for adding a final touch. For a lighter version of mozzarella in carrozza, bake it in the oven to guarantee it remains crispy on the outside while mozzarella becomes deliciously gooey on the inside.
Today, Neapolitan mozzarella in carrozza is a simple and tasty traditional dish that has earned its success not only thanks to street food but also to reinterpretations put forward by some of the greatest chefs. Mozzarella in carrozza is not only the majestic name of this recipe but also the title of a famous artwork by Gino De Dominicis, created in homage to this well-known dish.
The Giulio Ferrari Riserva del Fondatore is the perfect match for its savory flavor thanks to the complex bouquet that showcases the mozzarella in carrozza. The fine perlage contrasts with the fattiness, where the character of the sparkling wine is a splendid foil for the anchovies. The combination of this Trentino sparkling wine, striking in its elegance and freshness, and this dish from Campania, is ideal for amazing all those around your table with an aperitif that is both simple in its flavor but at the same time sublime.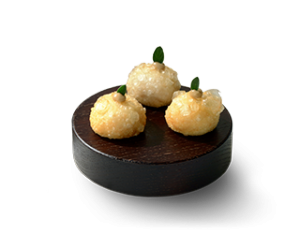 Ferrari Trento promotes a culture of drinking responsibly which is part of the Italian Art of Living.
It is a culture linked to the ritual nature of food and the celebration of convivial occasions, in which consumption is moderate and informed.
Enter the ferraritrento.com website only if you share this approach and if you are of the legal age to drink alcohol in your country: a world of excellence awaits you!
Access to the site was denied because you are not of legal age to drink alcohol.