Ferrari donates The Perfect Horse to Arte Sella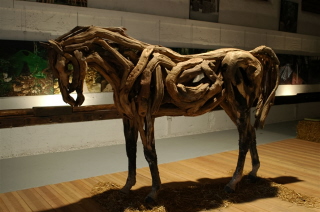 Arte Sella is an extraordinary outdoor museum set up in Sella Valley, one of the most beautiful places in Valsugana. The collection is comprised of art created only with materials coming directly from nature. One of the last works, The Perfect Horse, created by Heather Jansch, has been bought and donated to Arte Sella by a group of companies, one of those being the maison Ferrari. The Perfect Horse, as one can see from the picture, is a full-size horse "built" by the artist with branches gathered from the Cornwall beaches.

Ferrari Trento promotes a culture of drinking responsibly which is part of the Italian Art of Living.
It is a culture linked to the ritual nature of food and the celebration of convivial occasions, in which consumption is moderate and informed.
Enter the ferraritrento.com website only if you share this approach and if you are of the legal age to drink alcohol in your country: a world of excellence awaits you!
Access to the site was denied because you are not of legal age to drink alcohol.