Ferrari is also at the Expo in Shanghai which opened on Saturday 1st May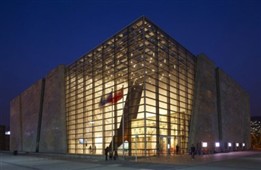 Expo 2010 is expected to be the event to end all events. Why? Because it is being held in Shanghai, because around 70 million visitors are expected, which is about 400 thousand visitors each day during the Expo's first six months, and because for many Chinese it will be the very first opportunity for them to see, albeit indirectly, what the world is like outside of China. And could Ferrari bubbles miss the event to end all events of 2010? Of course not! In fact Ferrari labels will be the stars in the Italian pavilion, until the end of October when the Shibohui ends, this is the name of the Expo in China, among the best wines selected for the occasion by the Enoteca Italiana. "The city of man, Italian-style living" is the theme of the Italian pavilion and it is an exaltation of the Italian Style, Ferrari bubbles included, that visitors will find on the third floor, next to the restaurant where chefs will propose combinations of Chinese dishes and great Italian wines.

Ferrari Trento promotes a culture of drinking responsibly which is part of the Italian Art of Living.
It is a culture linked to the ritual nature of food and the celebration of convivial occasions, in which consumption is moderate and informed.
Enter the ferraritrento.com website only if you share this approach and if you are of the legal age to drink alcohol in your country: a world of excellence awaits you!
Access to the site was denied because you are not of legal age to drink alcohol.